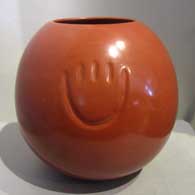 ---
Tina Garcia was born in 1957. Her mother, Lydia Tafoya, was from Santa Clara while her father, Santiago Garcia, was from San Juan. In the Puebloan way, she was raised among her mother's family at Santa Clara Pueblo where she learned to make pottery by watching her mother, her grandmother (Severa Tafoya) and her aunt (Angela Baca) make their trademark black ware. Tina began producing pottery herself at the age of 11 and by the age of 23 she was a full-time potter.
After studying the collections at the School for American Research in Santa Fe she decided to make mostly traditional, classic shapes without the carving so prevalent among Santa Clara pottery. Most of Tina's work is undecorated but she does occasionally use a bear paw imprint, one of the symbols of Santa Clara Pueblo. Tina is known for her finely polished red and black large, classic jars, water jars and for her bowls.
Tina's work has been shown in many venues and exhibitions, from New York to Pittsburgh to Santa Fe and Phoenix. She won numerous 1st and 2nd Place ribbons at the SWAIA Santa Fe Indian Market and at the Eight Northern Pueblos Arts & Crafts show.
Tina's sister, Virgina Garcia, and her brother, Greg Garcia, are also award-winning potters. Tina passed in 2005.

100 West San Francisco Street, Santa Fe, New Mexico 87501
(505) 986-1234 - www.andreafisherpottery.com - All Rights Reserved