San Felipe Pueblo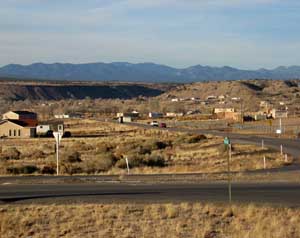 San Felipe Pueblo today
During the great migrations from the Four Corners area to the Rio Grande Pueblos the people of Cochiti and San Felipe were one. On arriving near the Rio Grande they settled in the area now known as Bandelier National Monument, taking advantage of a landscape that made it easy to construct dwellings. However, over time that area got too dry, too, and the people decided to move closer to the large river. Disagreements over where to settle split the people into what is now the Cochiti and San Felipe tribes.
When Francisco de Coronado arrived in 1540, there were two San Felipe villages, one on each side of the Rio Grande. The main villages were comprised of large two-and-three-story structures plus a couple hundred outlying dwellings. The Spanish built their first mission church next to the east village around 1600.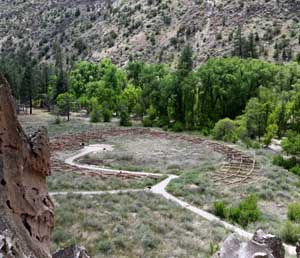 Part of the San Felipe ancestral home
The people of San Felipe participated in the Pueblo Revolt of 1680 but killed no Spaniards or any priests. Governor Otermin returned with troops in 1681 and found San Felipe abandoned as the people had hidden themselves atop nearby Horn Mesa. The Spaniards looted and burned the pueblo before returning to Mexico. When Don Diego de Vargas came back in 1692, the people chose to surrender and be baptised rather than fight. To test the peace they first settled atop nearby Santa Ana Mesa. A few years later they descended into the Rio Grande Valley and founded today's pueblo.
San Felipe has always had more arable land than most of the other pueblos and is still known for its agricultural products, although most people commute to work off-pueblo. The long-held isolationism of the San Felipe people has contributed to the loss of many traditional activities, including the making of pottery. Most San Felipe potters active today either learned the art on their own or learned from artisans at other pueblos. The revival of San Felipe pottery tradition is further complicated by the fact so few people remember where good clay might be found on the pueblo lands.
For more info:
Pueblos of the Rio Grande, Daniel Gibson, ISBN-13:978-1-887896-26-9, Rio Nuevo Publishers, 2001



100 West San Francisco Street, Santa Fe, New Mexico 87501
(505) 986-1234 - www.andreafisherpottery.com - All Rights Reserved