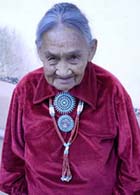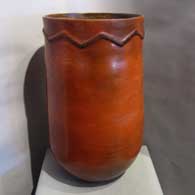 ---
A member of the Reed People Clan, Rose Williams is recognized as the Matriarch of modern Navajo pottery and was long considered a living treasure. She was born in 1915 and passed away in March, 2015, at the age of 99.
A very traditional Navajo woman who spoke only a few words of English, she lived in a small frame house in Cow Springs, AZ (in the Tonalea area) for most of her life.
Rose learned the traditional art from her aunt, Grace Barlow. Her earliest pieces were made for typical Navajo uses: for hundreds of years Navajo clay-work was made specifically for domestic or ceremonial use only - and many Diné used her as a source for ceremonial pottery for many years. The majority of her pottery, though, was made for the marketplace. In the 1980s she began producing large cylindrical jars, some measuring more than 24" in height and 12" in diameter. Those quickly became a specialty for her as some were used for cooking and some for making drums.
In her later years various family members would help Rose with the collection of the clay and the polishing and pitching of her pots. They dug the brown-firing clay from a special place near Black Mesa, screened it to eliminate impurities and mixed it with sand for temper. Rose then used the hand-coil technique to build her pottery, perhaps adding a biyo' (a traditional decorative fillet around the rim) as her only nod to decoration. She usually worked in a brush shelter next to her house, firing in a cast-iron stove near the doorway. After firing she finished her pots inside and out with a coat of hot pine pitch.
Rose taught several generations of students the traditions of Navajo pottery making. Among her students were Faye Tso, Silas Claw, Louise Goodman and Lorena Bartlett. Her three daughters, Alice Williams Cling, Susie Williams Crank and Sue Williams, are recognized potters, as is her former daughter-in-law Lorraine Williams-Yazzie.
Although she herself never entered her work in any juried competitions or shows, dealers and collectors often entered her work for her. On that basis, Rose won awards at the Inter-Tribal Indian Ceremonial in Gallup, NM, at the Navajo Craftsman Exhibition at the Museum of Northern Arizona in Flagstaff and at the Heard Museum Guild Indian Art Fair and Market in Phoenix. Rose did not sign her work until she was well into her eighties.

100 West San Francisco Street, Santa Fe, New Mexico 87501
(505) 986-1234 - www.andreafisherpottery.com - All Rights Reserved