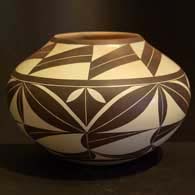 ---
Born in 1959, Yvonne Analla Lucas grew up in Gallup, New Mexico. Her father is from Laguna Pueblo, her mother is Navajo. She shares her pottery tradition with her brother, Calvin Analla, Jr., along with their grandmother, Evelyn Cheromiah and their aunt, Gladys Paquin. These four potters together have worked hard to revive the Laguna Pueblo pottery tradition.
Yvonne made her first small jar in the summer of 1997, encouraged by her husband, Steve Lucas, and his aunt, Dextra Quotskuyva, both esteemed potters from the Nampeyo family of Hopi. After having observed their pottery making techniques, Yvonne began to devise her own creations with Hopi clay and Laguna designs. Her pots are gracefully formed, well painted and finely polished. Her design portfolio includes stunning geometric designs and floral motifs. Her polychrome pieces use deep black and terra cotta colors with mineral-based oranges and reds.
Her creation process begins with digging the clay from special places among the surrounding mesas at Hopi. Soaking the clay in water hydrates the material so the rocks, weeds and other foreign materials can be removed. The clay is strained through cloth and allowed to sit. Then excess water is skimmed off until the proper material consistency is reached. After kneading the mixture thoroughly to remove any air bubbles, she begins to hand-coil her form, pinching and scraping the coils as she goes. When dried sufficiently, the vessel is sanded, then polished with a river stone. Painting the designs with organic black and mineral-based red is the final step before firing the pot.
Her firepit is made of a screen placed over the base of firewood and manure. Pot shards are placed over the new pottery to cover and protect it from taking on too much heat and being discolored by the smoke. Then additional manure is added. After several hours and the fire has burned down, the pots are carefully removed.
Since she started to enter her pieces in juried competitions in 1997, Yvonne has consistently been winning ribbons for her pottery at the SWAIA Santa Fe Indian Market. Yvonne signs her work with her name, "Y. Lucas," and a hallmark: the Mudhead symbol of her husband's clan.

100 West San Francisco Street, Santa Fe, New Mexico 87501
(505) 986-1234 - www.andreafisherpottery.com - All Rights Reserved

Laguna Pueblo
After the Pueblo Revolt of 1680, many Puebloans were fearful of Spanish reprisals. Spanish militias returned in 1681 and again in 1689. That first return brought them as far north as Isleta and that pueblo was attacked, looted and burned. The second return saw troops marching up to Santa Ana and San Felipe, attacking, looting and burning both. In those years, when the Puebloans became aware of approaching Spanish forces they mostly scattered into the mountains and the Spanish found empty pueblos, easy to loot and easy to burn. When Don Diego de Vargas marched north in 1692, he was intent on reconquering Nuevo Mexico and re-establishing a long-term Spanish presence there. As the conquistadors who accompanied him were on a "do-or-die" mission, the reconquest took on a tenor quite different from the previous missions...
At first de Vargas followed a path of reconciliation with the pueblos but that was soon replaced with an iron fist that brought on a second revolt in 1696. The pueblos didn't fare so well the second time around and a large number of Pueblo warriors were executed while their wives and children were forced into slavery. When word of de Vargas actions got back to the King of Spain, he ordered de Vargas banned from the New World. However, most of the damage was already done.
Many modern historians say Laguna Pueblo was established between 1697 and 1699 by refugees seeking to avoid fighting with the Spanish. Many of those refugees had left the first pueblos approached by the Spanish in 1692. They had first scattered to more remote places like Acoma, Zuni and Hopi, or to more Spanish-friendly Isleta. However, the pressure of those refugees strained the resources of the other pueblos and quickly forced the refugees to consider starting a new existence in a newly-formed pueblo. The area of Laguna had been settled several hundred years previously by ancestors of today's tribe but had been abandoned during the periods of great drought that had brought the Ancestral Puebloans (Anasazi) down from the Four Corners area to the areas where we now find the Rio Grande Pueblos. Some of the land under Laguna control has also been found to contain archaeological resources dating as far back as 3,000 BC. The prehistoric village of Pottery Mound is located just east of today's Laguna Pueblo boundary. Pottery Mound was abandoned long before the Spanish first arrived but archaeologists have followed the tracks left by Pottery Mound styles, shapes and designs to settlements in the Hopi mesas and the Four Corners area.
Over time, several villages were established in the area around Old Laguna and when the Lagunas were granted their own reservation, they were given about 500,000 acres of land, making Laguna one of the largest of all pueblos in terms of land. However, only about half the enrolled members of the tribe live at Laguna as many have been drawn to nearby Albuquerque in search of work.
Laguna and Acoma share the same language (Western Keresan), similar pottery styles and similar religious beliefs. However, pottery making almost died out at Laguna after the railroads arrived in New Mexico in 1880 and laid a primary east-west trackbed directly in front of the Laguna main pueblo. During that time period many Lagunas went to work on railroad construction crews and many of the traditional Laguna arts and crafts died out. Potterymaking never completely stopped at Laguna but by 1960 it was almost gone. Then in 1973 and again in 1974 Nancy Winslow taught two four-month arts and crafts classes at the pueblo. Among the 22 pueblo members in the first class were Evelyn Cheromiah and her daughters. Rick Dillingham quoted Evelyn Cheromiah as saying that after "looking at my mother's pottery-making tools, I got the urge of going back to making pottery." That was the beginning of today's renaissance in Laguna pottery.
Because of their geographic proximity, Laguna and Acoma clays are very similar. In some instances, it's very hard to determine if a particular pot is from Acoma or from Laguna. Laguna potters are more likely to temper their white clay with sand than with ground up pot shards like the Acomas do. Laguna geometric designs also tend to be bolder than Acoma designs while Laguna potters use Mimbres designs much more sparingly than do Acoma potters.

100 West San Francisco Street, Santa Fe, New Mexico 87501
(505) 986-1234 - www.andreafisherpottery.com - All Rights Reserved