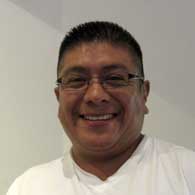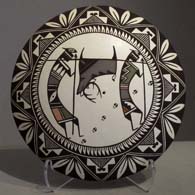 ---
Born in 1969, Daniel is from Acoma Pueblo. His primary pottery teachers were his mother, Rebecca Lucario, and his aunt, Marilyn Ray. He was introduced to the traditional art as a teenager when his mother put him to work filling in the colors in her designs but he didn't seriously begin potting on his own until 2010 when he took up the art full time.
The first competition he entered was the Gallup Inter-Tribal Ceremonial in 2011 and he went home with a 2nd Place ribbon. Then he won the Judge's Choice Award for pottery at the Heard Museum Show in Phoenix in 2013.
He creates his seed pots, plates and bowls by using the coil method and paints them with traditional slips. His designs feature precise fine line work depicting parrots, lizards, plants, wildlife, hunters, kokopelli's and intricate geometric designs consistent with the Acoma tradition. Daniel's first, and highly successful, gallery show was at Andrea Fisher Fine Pottery in Santa Fe in August of 2014. In the show, entitled A Family Affair, Daniel shared the spotlight with his mother, Rebecca, and his 30-year-old sister, Amanda.
Daniel says he makes pottery for himself, the act of creating being a reward in and of itself. He also tells us he doodles a lot and always sketches out his designs before touching his yucca brush to any color.

100 West San Francisco Street, Santa Fe, New Mexico 87501
(505) 986-1234 - www.andreafisherpottery.com - All Rights Reserved