Day of the Dead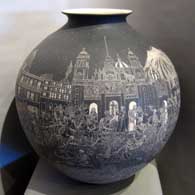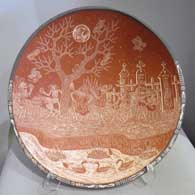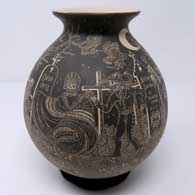 The Day of the Dead, El Dia de los Muertos, is a holiday celebrated in Mexico where ancient Aztec rituals going back more than 2,500 years are merged with Catholic beliefs brought by the Spaniards in the 1500's. The holiday is about honoring the ancestors with food, drink, parties and other activities designed to include the ancestors' spirits in today's daily life. Families also set up ofrendas (private altars) to honor their ancestors.
Death is considered an integral part of the continuum of life and, as such, is not to be feared. Celebrations occur November 1 (All Saints Day) when adult spirits come to visit, and November 2 (All Souls Day) when families go to the cemetery to decorate the graves of their loved ones. This is a very colorful holiday with marigolds, cardboard skeletons, sugar skulls, incense and tissue paper decorations in riotous colors everywhere.
Depictions of Day of the Dead activities is a motif explored by several renowned potters from the village of Mata Ortiz in Chihuahua, Northern Mexico. Premier among them is Hector Javier Martinez who originated the style in 2008 after searching for "something different" to help him secure pottery making as a vocation. He has since won several major awards for his Day of the Dead (and Night of the Dead) pottery, the very prestigious Presidencial Award from the Mexico National Ceramics Concourso in Tlaquepaque among them. Alfredo Rodriguez, Diana Loya, Martin Corona, Adrian Corona and Emiliano Rodriguez are some of the other Mata Ortiz artists using Day of the Dead and Night of the Dead motifs as inspiration for their own creations.

100 West San Francisco Street, Santa Fe, New Mexico 87501
(505) 986-1234 - www.andreafisherpottery.com - All Rights Reserved