Vidal Corona
Mata Ortiz and
Casas Grandes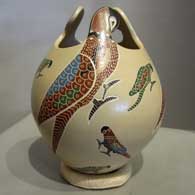 ---
A resident of Barrio Lopez, Vidal Corona is a first generation potter from Mata Ortiz. He and his wife, Luz Elva Gutierrez, make blank pots and bowls to sell to other artists and for painting themselves.
Vidal's signature pieces these days often offer uniquely expressive forms of macaws and eagles sculpted into the openings of his vessels. He then etches large and small designs into the surface of the clay, paints them in colors that match the theme of the pot and then fires them to produce his finished product. Many of his designs revolve around macaws, parrots, eagles, other birds and butterflies.
His sister, Angela Corona, credits Vidal with teaching her to make pottery and she has become successful in her own right, developing a distinctive series of polychrome owl effigy jars and lizard-covered seed pots.

100 West San Francisco Street, Santa Fe, New Mexico 87501
(505) 986-1234 - www.andreafisherpottery.com - All Rights Reserved