Teresita Naranjo
Santa Clara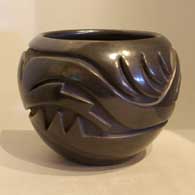 ---
Teresita Naranjo was born to Christina and Victor Naranjo of Santa Clara Pueblo in 1919. Her grandmother was Sarafina Tafoya, her aunt Margaret Tafoya. Teresita grew up learning the traditional way to make pottery from the relatives around her, some of the finest Pueblo potters on Earth. She married Joe Naranjo at an early age and they had four children. When the oldest was 12 her husband died and she was able to raise her family on her own, based on her ability to make money as a potter.
Teresita truly enjoyed making her pottery and she excelled in creating carved red ware and black ware bowls, wedding vases, jars and miniatures. Her favorite design to carve was the avanyu (water serpent). She passed her skills and techniques on to her daughter Stella Chavarria, who passed that learning on to her children in turn.
Teresita participated in shows at the Maxwell Museum of Anthropology in 1974, the Popovi Da Studio of Indian Arts Gallery in 1976, the "One Space/Three Visions" exhibit at the Albuquerque Museum in 1979, the big Sid Duesch Gallery show in New York City in 1985 and the Harris Collection show at Blue Rain Gallery in Taos, New Mexico in 1998. The Heard Museum in Phoenix also has a collection of her works on display.
Teresita passed in 1999.

100 West San Francisco Street, Santa Fe, New Mexico 87501
(505) 986-1234 - www.andreafisherpottery.com - All Rights Reserved