Russell Sanchez
San Ildefonso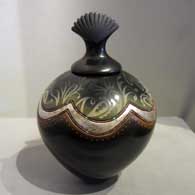 ---
Russell Sanchez was born at San Ildefonso Pueblo in 1963. As a child he spent a lot of time with his grandparents, Oqwa Pi (an award-winning painter) and Pomasena Cata Sanchez, Rose Gonzales' younger sister. When Russell was about 8, Rose began teaching him the traditional way to make pottery. He says that one day when he was 11 or 12 he put a batch of small, newly finished black-on-black pots outside and Anita Da (Popovi Da's widow) came by and took a look. Then she told him, "I want you to start bringing me stuff" and that's how his pottery career really began to take off. After a while he also began working with Dora Tse-Pe, Rose's daughter-in-law, and from her he learned how to refine his process and attain a more perfect product. Since then he has developed his own techniques and has often been referred to as a modernist potter.
Because he grew up speaking Tewa, Russell was able to converse with his tribal elders and they told him where to go and what to look for when he went out in search of clay deposits. He found many of the old clay sources at San Ildefonso and has used them to help recreate many of the San Ildefonso styles from the 1800's, well before most San Ildefonso potters started creating black-on-black pots. He's done significant research into old styles and designs among the collections at the Museum of Indian Arts & Culture and the School for Advanced Research but when asked if he copies any he responds with a saying he learned in his youth: "This is mine, this is what I do. Take it and make it your own."
Russell is an avid outdoorsman and an expert with a kayak and a river raft. He's paddled rivers in Peru and Chile and challenged the Zambesi River in southern Africa. However, tamer rivers closer to home allow him to gather clay wherever he finds it. That has led to experiments with many different types of clay, even to the point of incorporating two or more different colors of clay into the same pot. He also often uses slips made of different colors of clay, including micaceous. His designs are painted, carved, incised and sometimes inlaid with turquoise and/or coral and heishi beads. For Russell, "traditional" doesn't mean being stuck in any one time period, it's more like growing and moving forward with everyone adding something else to the "traditional" as they travel their own paths.
Russell has won many awards over the years, including several 1st and 2nd Place ribbons at the SWAIA Santa Fe Indian Market, the Eight Northern Pueblos Arts & Crafts Show and the Heard Museum Guild Indian Fair & Market. Collections of his work can be found at the Millicent Rogers Museum in Taos, New Mexico, the Museum of Natural History in Los Angeles, the Smithsonian Institute in Washington, DC, the Museum of Indian Arts & Culture in Santa Fe, New Mexico and the Heard Museum in Phoenix, Arizona. In 2017 Russell was awarded the 2017 Governor's Award for Excellence in the Arts.
Some of the Recent Awards Russell has Earned
2019 - Best of Class for contemporary pottery, any form or design using Native materials with or without added elements, traditional firing techniques, Santa Fe Indian Market
2019 - 2nd Place, Sgraffito, any form, Santa Fe Indian Market
2019 - 1st Place, Painted any form, Santa Fe Indian Market
2019 - 1st Place, Figures, including sets, Santa Fe Indian Market

100 West San Francisco Street, Santa Fe, New Mexico 87501
(505) 986-1234 - www.andreafisherpottery.com - All Rights Reserved