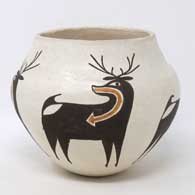 ---
Rose Chino Garcia (1928-2000) and her sisters, Carrie Chino Charlie, Vera Chino Ely and Grace Chino, were daughters of the famous Acoma Pueblo potter Marie Z. Chino. Having learned the best from their mother at an early age and then further developing their art on their own, each of the daughters became a famous potter in their own right.
Rose's designs include cloud forms, double seed jars, butterflies, spirals, rain drops and lightning bolts, among others. "Painting the fine lines is hard on your eyes, you have to rest every so often," she said, describing her efforts.
Her pottery has been part of collections at the Heard Museum in Phoenix, the Peabody Museum at Harvard University, and the Philbrook Museum of Art in Tulsa. Among the many awards she earned in her lifetime was one for "Most Creative Design" from the Santa Fe Indian Market.
Rose's daughter Tena continues the Chino family tradition of creating exceptional pottery.

100 West San Francisco Street, Santa Fe, New Mexico 87501
(505) 986-1234 - www.andreafisherpottery.com - All Rights Reserved