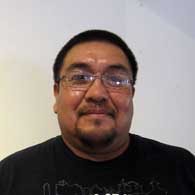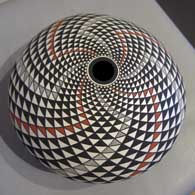 ---
Born in 1969 to Henry and Marie Kasero, Robert Kasero Sr., is a Laguna Pueblo potter. He says he learned some of the traditional way of making pottery from his mother and some on his own but it was after becoming Paula Estevan's significant other that he really came into his own. Paula has had a strong influence on his styles and designs but she says she leaves the details in his capable hands.
Like her work, his pieces are very thin walled and precisely painted, generally featuring a single design element that is repeated in an extremely fine, almost laser-like progressive pattern across the entire surface of the pot. Robert focuses on creating large seed pots that resemble sea urchins and he occasionally adds a full neck. His favorite designs are geometric, laid out such that a swirl is a straight line is a checked pattern, and the whole is simply dazzling to the eye.
While their styles are similar, the two partners do not collaborate. Paula is so confident in his work that she "seldom makes suggestions."
Robert tells us he gets his inspiration from the two most important women in his life: his mother and Paula. He also really enjoys when we tell him stories from his pleased collectors. He signs his work: "R. Kasero Sr., Laguna, NM."

100 West San Francisco Street, Santa Fe, New Mexico 87501
(505) 986-1234 - www.andreafisherpottery.com - All Rights Reserved