Paulita Tenorio Pacheco
Santo Domingo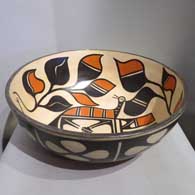 ---
A member of the Fire Clan, Paulita Tenorio was born into Santo Domingo Pueblo in 1943. Her husband Gilbert Pacheco was born into the Santo Domingo Corn Clan in 1940. Paulita was inspired to work with clay by her mother, Juanita Tenorio, and grandmother, Andrea Ortiz.
As a teenager she helped her mother and grandmother gathering the necessary materials on pueblo grounds for making pottery. Eventually she learned to coil pots and paint them, assisted in this by her brother, Robert Tenorio. Gilbert also worked with his elders gathering clay and other materials as a child and teenager. As an adult he honed his skills working with both Paulita and Robert Tenorio.
Working together, Gilbert and Paulita produced a lot of polychrome bowls, pitchers and jars, decorated mostly with traditional Santo Domingo bird, plant and geometric designs. Together they participated in Santa Fe Indian Market, the Eight Northern Pueblos Arts and Crafts Show and the Santo Domingo Pueblo Arts and Craft Show for years. They began earning awards in 1988 and collected a sizable number of ribbons through the 1990's and early 2000's.
Gilbert and Paulita sign their pieces with: Paulita Pacheco and a corn symbol denoting Gilbert's clan. Hilda and Arthur Coriz were Paulita's sister and brother-in-law. Andrew (William Andrew) Pacheco is Paulita and Gilbert's son.

100 West San Francisco Street, Santa Fe, New Mexico 87501
(505) 986-1234 - www.andreafisherpottery.com - All Rights Reserved