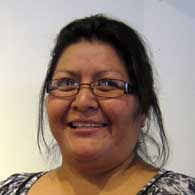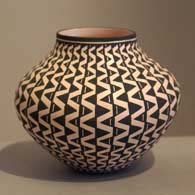 ---
Born in 1967, Paula Estevan is from Acoma Pueblo. Making pottery since 1986, she learned traditional painting from her mother Patricia Estevan and pottery making from her great-grandmother, Mary Estevan Chino, with input from Mary Chino and Victoria Garcia. Then she took what they taught her and moved forward into water jars with extremely thin walls and black-and-white geometric designs rendered with laser-like precision.
Paula's hand coiled pots are exceptional examples of contemporary Acoma pottery created with perfect shape and form. Her process involves selecting a single Acoma design element and repeating it in an extremely fine progressive pattern on the entire surface of the pot. She says her inspiration comes from her great-grandmother Mary Estevan Chino. Paula also says she takes making her pottery very seriously, at the same time she admits the creation process is very therapeutic for her.
She has never shown her works at either Santa Fe Indian Market or Eight Northern Pueblos Arts and Crafts Show. Paula's work is included in Southern Pueblo Pottery: 2000 Artist Biographies by Gregory Schaaf and Pueblo and Navajo Contemporary Pottery by Berger & Schiffer. She signs her work: "P. Estevan, Acoma, NM."

100 West San Francisco Street, Santa Fe, New Mexico 87501
(505) 986-1234 - www.andreafisherpottery.com - All Rights Reserved