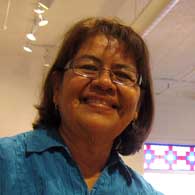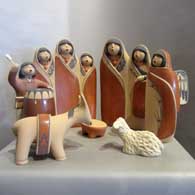 ---
The daughter of famous Jemez potter Marie G. Romero, Maxine grew up surrounded by some of the most accomplished of today's Jemez potters. Among the potters in her family: Laura Gachupin, Persingula Gachupin, Bertha Gachupin, Virginia Fragua and now, Maxine's daughters Camilla and Dominique.
Maxine has been producing pottery since she was 20 years old and over the years has won numerous 1st, 2nd and 3rd Place ribbons in shows at the Eiteljorg Museum of American Indians and Western Art in Indianapolis and the SWAIA Santa Fe Indian Market. She has also earned awards for Best in Pottery Division and for Most Creative Design.
Her favorite shapes to make are clay sculptures, large singular figures as seen in her famed nativity sets. Her nativities offer beautifully polished robes and peaceful and serene human and animal faces. She also usually decorates her pieces with traditional Jemez designs. She originally got much of her inspiration from Apache sculptor Allan Houser. She says she also gets inspiration from her mother and from the works of other potters. Maxine tells us she loves the feel of clay: "It is so alive and it wants to speak through me." Working with clay is her favorite form of therapy.

100 West San Francisco Street, Santa Fe, New Mexico 87501
(505) 986-1234 - www.andreafisherpottery.com - All Rights Reserved