Mary Louise Eteeyan
Jemez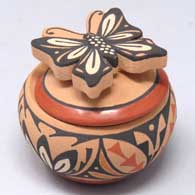 ---
Mary Louise Eteeyan was born into Jemez Pueblo in 1942, the daughter of Anna Marie Shendo. Her mother was a well known potter but Mary wasn't interested in working with clay until she was in her mid 30s. By then she had married William Eteeyan, a Potawatomi man, and was raising a teenage daughter, Kimberley Eteeyan. Mary has always maintained she is mostly a self-taught potter, although she did get pointers from some of her friends.
Mary mostly made polychrome matte and polished jars, wedding vases, seed pots and lidded bowls. Among her favorite designs were butterflies and flowers. Many of her lidded bowls feature sculptured butterflies as handles on their lids. Mary is also highly respected for her painting. She earned numerous First Place awards at venues like the New Mexico State Fair, the Gallup InterTribal Ceremonial and the Eight Northern Indian Pueblos Arts and Crafts Show.
Mary usually signed her pieces: "Mary Lousie Eteeyan Jemez", although sometimes it was: "M. Louise Eteeyan Jemez" and sometimes "ML Eteeyan Jemez". There are other variations, too, usually determined by the size of the open space on the bottom of her piece.
Mary taught her daughter the traditional way to make pottery and Kimberley, too, has become an award-earning potter.

100 West San Francisco Street, Santa Fe, New Mexico 87501
(505) 986-1234 - www.andreafisherpottery.com - All Rights Reserved