Marvin and Frances Martinez
San Ildefonso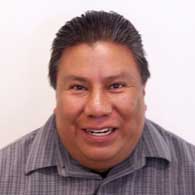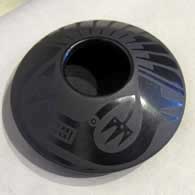 ---
Marvin Martinez was born in 1964 into the internationally renowned family of Maria Martinez, the famous potter of San Ildefonso Pueblo. He is Maria's great grandson, grandson of Adam and Santana Martinez. His wife Frances is from Santa Clara Pueblo and they have three children.
Marvin and Frances create their pieces in the traditional way using clay gathered from pueblo land and hand-processed at home. They then hand-coil their pots, stone polish them, decorate them with designs in bee-weed and then fire their pots outdoors. Their favorite design is the avanyu (water serpent) which Marvin occasionally varies by adding rain coming down from the clouds in the avanyu design, as well as altering the teeth of the serpent.
It was Marvin's great-grandfather Julian who started painting the avanyu design. It was Julian who also invented the matte black-on-black style back around 1919.
Marvin spent his childhood around potters and says, "I have memories of helping my grandparents, Adam and Santana, get supplies for firing pottery. I watched them make pots and paint them. I also traveled with them to Idyllwild [Arts Summer Program at the Idyllwild Arts Academy in California] in 1974."
This exposure to great artistry has given Marvin a deep appreciation for the now traditional designs begun by his family. "I would like for everyone to enjoy our pottery and give it a good home because we respect our clay, because it comes from Mother Earth, and we pray for good health for the whole world, and for all to live in peace and harmony," he states.
They sign their work: "Marvin & Frances Martinez, San Ildefonso".

100 West San Francisco Street, Santa Fe, New Mexico 87501
(505) 986-1234 - www.andreafisherpottery.com - All Rights Reserved