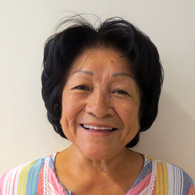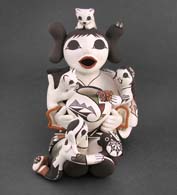 ---
Marilyn Lewis Ray was born to Edward and Kathryn Lewis of Acoma Pueblo in 1954. She is a member of one of the two non-related Lewis families at Acoma: the Lucy Lewis family of traditional potters is the more well known while the children of Kathryn Lewis (Rebecca Lucario, Marilyn Ray, Carolyn Concho, Diane Lewis and Judy Lewis) have been making some of the most innovative and contemporary pottery being produced at Acoma. Each member of the family has carved out their own particular niche and Marilyn has long been focused on the art of the storyteller.
In Native American pottery art, a storyteller refers to a figure, usually a grandparent, adorned with smaller figures of children. In Puebloan society, their histories are oral, to be sung in their native languages. The storyteller is an elder figure who sings the stories of their tribal culture to pass that knowledge on to the children. Helen Cordero of Cochiti Pueblo made the first storyteller in 1964 in honor of her grandfather, a great storyteller. The tradition soon spread to other pueblos, each potter adapting the dress and hairstyles to their own society but also each exhibiting a distinctive and delightful expression of the intense love the Pueblo people have for their children. Figures with an open mouth represent a grandparent or parent singing or telling stories to their children.
Marilyn's playful figures capture her deep sense of humor: some of the children are climbing, some playing with puppies, some just being mischievous. She says she was inspired to make pottery by her late grandmother, Dolores S. Sanchez, who encouraged her to make small animal figurines when she was twelve. Marilyn also sold her small pieces alongside those of her grandmother.
Her grandparents took her with them to help mine the clay. They taught her to use natural materials that were abundant to decorate her pieces. Most importantly, they taught her how to use the sacred earth to make a living. Marilyn's motivation intensified after her grandmother gave her a special polishing stone.
Years later, Marilyn grew bored with just black, orange and white, the basic colors for which Acoma potters are known. She began to experiment with colored clay slips and over the next four years discovered twelve new colors to use on her figures. She says she tries to work on figurines at least six hours a day but she also has to tend to her family: as she has told us many times, "I love to be home with my husband and Cinnamon Dog."
In addition to her storytellers, Marilyn likes to make Friendship/Corn Meal bowls (with butterflies, lady bugs and children hanging over the sides), Nativities, Singing Maidens, Corn Maidens and animals (including bear storytellers with cubs and turtles carrying children). Her sense of humor and love of life are evident in all her creations. Marilyn also puts time aside to work with other potters, both to inspire and to be inspired.
Marilyn's storytellers have become collectors items. They have been featured in several books and magazines including Douglas Congdon-Martin's book Storytellers and other Figurative Pottery. In January 1993, her work was even featured on an Albuquerque billboard.
Marilyn's art has earned her more than 300 prize ribbons, including many from The Heard Museum Show in Phoenix, the SWAIA Santa Fe Indian Market, Eight Northern Pueblos Arts and Crafts Show and Gallup Inter-Tribal Ceremonials, among others. She signs her work: "Marilyn Ray, Acoma, NM" along with a date and a lizard hallmark.

100 West San Francisco Street, Santa Fe, New Mexico 87501
(505) 986-1234 - www.andreafisherpottery.com - All Rights Reserved