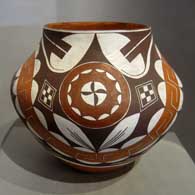 ---
Marie Juanico was born to Toribio and Delores Sanchez of Acoma Pueblo on December 17, 1937. Among her siblings were Ethel Shields and Katherine Lewis, and like them, Marie learned to make pots the traditional way by working alongside their mother.
Marie primarily makes traditional Acoma-style jars, bowls and owls, and decorates them with designs she learned from her mother. That said, Marie also says her pots often take on shapes of their own as she is coiling them. If a piece comes out in an old style shape, she decorates it in old style designs. If a piece comes out in a more contemporary shape, she innovates her own designs.
For many years her pottery has been Marie's only source of income. Her expertise shows in the number of ribbons she has earned from the SWAIA Santa Fe Indian Market, the New Mexico State Fair and the Gallup Inter-Tribal Ceremonial.
Marie's work is shown in the Indian Craft Shop at the US Department of the Interior in Washington, DC. Her work is also prominent in the private collections of Allan & Carol Hays, John Blom and Drs. Judith & Richard Lasky, among others.
Marie has passed her knowledge on to her daughter, Delores Aragon Juanico, and provided encouragement to other Acoma potters, including Marietta Juanico, her daughter-in-law.

100 West San Francisco Street, Santa Fe, New Mexico 87501
(505) 986-1234 - www.andreafisherpottery.com - All Rights Reserved