Margaret and Luther Gutierrez
Santa Clara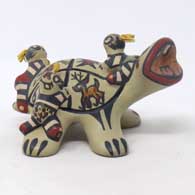 ---
Margaret and Luther were a brother and sister team of Santa Clara potters. Their parents were Lela and Van (Evangelio) Gutierrez. Luther was born in 1911, began making pottery around 1935 and was making pots almost until the day he passed in 1987. From 1956 to about 1966, Luther worked with Lela after Van died, then worked with Margaret after Lela died. The signature dates on their pottery are like this:

Lela/Luther signature: 1956-1966
Margaret/Luther signature: 1966-1987
Margaret/Pauline: 1987-1988
Margaret alone: 1988-2018
Margaret was born in 1936 and passed in 2018. Margaret and Luther began collaborating in the early 1960's but that ended with Luther's death in 1987. After that Margaret worked with Luther's daughter Pauline. Shortly after that Pauline died, so Margaret began working with Pauline's daughter, Stephanie.
Together, Margaret and Luther continued and expanded on a tradition begun by their parents, Lela and Van. In the early days of their collaboration, Margaret and Luther were producing polychrome jars, bowls and wedding vases, often decorated with avanyu, clouds, rain, sky bands and lightning bolts in bright, traditional Santa Clara color combinations. Then Luther began searching out new colors of clay and they developed their own unique color palette. In the 1970's they switched it up and began producing polychrome figurines of various animals and other creatures, painted with the unique color palette they had become famous for.
They were participants in the 1974 Seven Families in Pueblo Pottery exhibit at the Maxwell Museum of Anthropology in Albuquerque. In 1976 they were honored with a show at the Popovi Da Studio of Indian Arts at San Ildefonso Pueblo. In 1985, along with Margaret Tafoya and others, they were participants in a show at the Sid Deutsch Gallery in New York City.
Margaret, by herself, earned a 1st Place ribbon for a painted wedding vase at the SWAIA Santa Fe Indian Market in 1975. She participated in Santa Fe Indian Market every year from 1975 to 1998. She was also a participant in the Eight Northern Pueblos Arts and Crafts Show from 1995 to 1998.
They may not have won a lot of awards during their careers but they did make a lot of people smile with the sheer whimsicality of many of their pieces.

100 West San Francisco Street, Santa Fe, New Mexico 87501
(505) 986-1234 - www.andreafisherpottery.com - All Rights Reserved