Loren Wallowing Bull
Jemez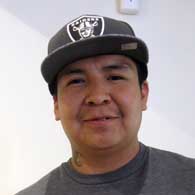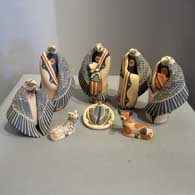 ---
Loren Wallowing Bull was born in April of 1988 and was raised by Linda Lucero Fragua and Phillip Fragua. He showed an interest in working with clay early in life and his mother (Felicia Curley) began teaching him the Jemez traditional way when he was about five years old. So like others of his generation in the Fragua family (Chrislyn, Amy, Anissa and Clifford), his feel for the clay goes way back.
Loren has participated in shows at the Heard Museum in Phoenix, Eight Northern Pueblos Arts and Crafts Show, Tucson Art Museum and the SWAIA Santa Fe Indian Market. At Santa Fe he won a 1st Place ribbon in the Youth Pottery Division and he's won a 1st Place ribbon at the Eight Northern Pueblos Show.
Loren tells us he gets his inspiration from his family and, like them, he truly enjoys making pottery. His favorite shapes are eagles, as storyteller figures and in nativity scenes. He also says he likes to push the style envelope and come up with something new, something different. That's how he came up with his eagle nacimientos and now he can't make enough of them.

100 West San Francisco Street, Santa Fe, New Mexico 87501
(505) 986-1234 - www.andreafisherpottery.com - All Rights Reserved