Lisa Holt & Harlan Reano
Cochiti/Santo Domingo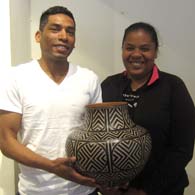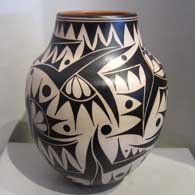 ---
Half Cochiti (on her mother's side), Lisa Holt was born into a well-known multi-generational family of potters in 1980. Her grandmother is Seferina Ortiz, her mother Juanita Ortiz and her uncle Virgil Ortiz. Lisa has been making pottery since 1999 and specialized in creating human and animal forms, following long Cochiti tradition. These days she's been making large beautiful ollas. She makes all her pots the traditional way: by hand-coiling the forms from materials she processes herself.
Born in 1976, Harlan Reano is from Santo Domingo Pueblo. He uses Lisa's elegant forms and figures as a three-dimensional "canvas" for his boldly painted designs that range from traditional geometrics to stylized graffiti patterns. Together, they complete the process by ground firing their innovative and dynamic creations.
Since their debut in 2001, they have pushed the shape and design envelope of contemporary Pueblo pottery with their work. Harlan revived historic Santo Domingo designs in 2003 and by 2004 he was creating more elaborate "twisted" shapes and figures. After only four years, they were considered "rising stars" among Native American potters and were beginning to win major awards at the Heard Museum Market and the SWAIA Santa Fe Indian Market. Every year since they have continued to win awards and accolades for their pottery in addition to being featured in several books and magazines on contemporary Pueblo pottery. Their innovations in design and form have captivated many traders and collectors and continue to inspire other artists. Their work has attracted museum attention and continues to expand the national and international audience for Pueblo pottery.

100 West San Francisco Street, Santa Fe, New Mexico 87501
(505) 986-1234 - www.andreafisherpottery.com - All Rights Reserved