Kimo DeCora
Isleta/Winnebago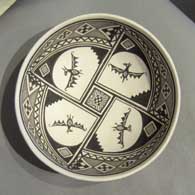 ---
Born in 1951 to Rev. Wilbur J. DeCora and Lupita M. Jojola, Isleta Pueblo potter Kimo DeCora is half Isleta, half Winnebago. He learned the basics of traditional pottery making on his own but he also learned through watching Cipriano Romero Medina and John Montoya at work.
Kimo's favorite shapes to make are bowls, jars, small owls and his trademark miniatures. Over the years his pieces have earned him 18 blue ribbons at the Winnebago, NE Fine Arts Show, 6 more blue ribbons at the Albuquerque CeramicFest and 2 blue ribbons at Andrea Fisher Fine Pottery.
His inspiration comes from his pre-Columbian ancestors, and it's their designs he most often uses to decorate his work. His signature reflects his tribal affiliation (W/T: Winnebago Ho-Chunk / Isleta-Tiwa) and subconscious doodling.
"I'm not the extrovert type and, like many others, don't need to be noticed to be happy ('Call me Hieronymous, cuz I like being anonymous'). It's a blessing to enjoy good health and be appreciated for the medium I express myself with. I also believe humor is a good thing."

100 West San Francisco Street, Santa Fe, New Mexico 87501
(505) 986-1234 - www.andreafisherpottery.com - All Rights Reserved