José Quezada
Mata Ortiz and Casas Grandes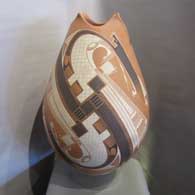 ---
José Quezada is the eldest son of Nicolas Quezada. José learned the traditional art from his father and as one of the premier potters of the Mata Ortiz second generation he has, in many ways, surpassed his father's achievements. To some folks, José is the second Juan Quezada.
José started making pottery at the age of nine, working alongside his mother and father. Today, he works alongside his wife, Marcela Herrera de Quezada. He builds the pots, she does the sanding and polishing, then he paints and fires them.
José is known for making beautiful large pots decorated with bold colors in the Quezada style. His largest pots have been up to 18 inches high.
José and Marcela live in Barrio Central (Mata Ortiz) with their daughter.

100 West San Francisco Street, Santa Fe, New Mexico 87501
(505) 986-1234 - www.andreafisherpottery.com - All Rights Reserved