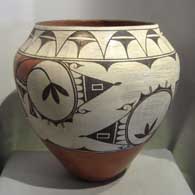 ---
The daughter of Jose Gachupin and Andrea Toribio Gachupin, Helen Gachupin was born at Zia Pueblo in 1931. Helen most likely grew up watching her famous grandmother, Rosalie Medina Toribio, making pottery but she really learned the basics of the traditional art from her mother. Through her life Helen mostly masde traditional polychrome jars, storage ollas and bowls. Her favorite designs seem to have been roadrunners, yucca plants, rainbows and birds.
Helen and her sister, Gloria Gachupin Chinana, were among the participants in the 1979 "One Space/Three Dimensions" exhibit at the Albuquerque Museum. Some of Helen's pieces can be found in the co9llections at the Peabody Museum at Harvard University in Boston, the Maxwell Museum in Albuquerque and the Museum of Indian Arts & Culture in Santa Fe.
Helen never married before she passed in 1992.

100 West San Francisco Street, Santa Fe, New Mexico 87501
(505) 986-1234 - www.andreafisherpottery.com - All Rights Reserved