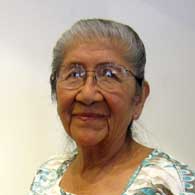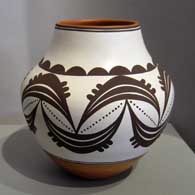 ---
Gladys Paquin was born in 1936 in Rehoboth, NM, to a Laguna mother (Adeline Juan) and Zuni father (Dwight Paquin). At the age of 10 she moved to Santa Ana Pueblo to live with her father and step-mother and at the age of 43, she returned to Laguna. The very next year she developed a keen interest in making pottery and went back to her step-mother to learn how to process and mix the clay.
Today she looks back on those days and says her teacher was really "The Lord," meaning she is self-taught, learning through trial and error. That early Santa Ana influence, though, is still seen in some of her designs.
Since 1980 Gladys has specialized in traditional polychrome jars and bowls. She uses Laguna's gray clay to form her vessels and various minerals and local plants to make her slips and paints. Gladys has passed what she's learned on to her students, among them Max Early, Myron Sarracino and her son, Andrew Padilla, Jr.
Gladys began participating in juried competitions in the early 1980's and her first award was a 1st Place ribbon at the Santa Monica (CA) Art Show in 1984. Then in 1986 she took the Best in Division-Pottery and 1st Place-Traditional Pottery ribbons at the SWAIA Santa Fe Indian Market. In 1987 she took 2nd Place ribbons at both Santa Monica and Santa Fe.
Gladys has also participated in (and earned ribbons at) the Okmulgee Indian Market (OK), Twin Cities Indian Market (MN), Heard Museum Guild Indian Market (AZ) and the Eiteljorg Museum Indian Market (IN). In 1993 she earned another 1st Place ribbon and the "Indian Art Fund Award for Best of Traditional Crafts" at the SWAIA Santa Fe Indian Market.
Gladys tells us she likes to make large pots and decorate them with her favorite design: the rainbird. She's developed a new rainbird design, too, and sometimes mixes the new and the old on the same pot. When we asked her where she gets her inspiration she replied "I live my life for the Lord but I want to also carry on the tradition of my people making pottery." As she didn't come from a lineage of potters she says the Lord helped her feel free to develop new designs based somewhat on the old.
Rick Dillingham was the first trader to buy her pots and early in her career he took her to the School for Advanced Research (in Santa Fe) and showed her the designs on many of the old Laguna pots in their collection. Since then, between her prayers and her practice she has made many of those designs her own.
Gladys usually signs her pots: "SRATyu'we G. Paquin-SNZ Laguna".

100 West San Francisco Street, Santa Fe, New Mexico 87501
(505) 986-1234 - www.andreafisherpottery.com - All Rights Reserved