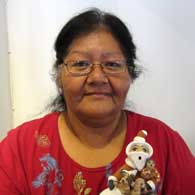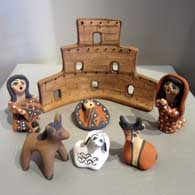 ---
Felicia Fragua was born to Grace L. Fragua and Felix Fragua of Jemez Pueblo in October, 1964. She began learning to make pottery the traditional way when she was about 13 years old. She considers her mother and sister Rose to have been her teachers but she also counts Emily Fragua Tsosie, Bonnie Fragua, Cindy Fragua, Clifford Fragua and Carol Fragua among her siblings and potting relatives.
Felicia has done pottery making demonstrations at the SWAIA Santa Fe Indian Market and has also shown her work at the Haskell Indian Art Market (in Lawrence, Kansas) and at the Eight Northern Pueblos Arts and Crafts Show (in Espanola). She has taken home ribbons for 1st, 2nd and 3rd Place at Eight Northern Pueblos. Some of her work is on display at the Smithsonian Museum of the American Indian and some of it has been published in various books on storytellers and other figures.
Felicia's favorite shapes are storytellers with lots of kids. She also enjoys making kiva pots and large nativities. Felicia enjoys making her pottery so much she has taught her kids and grandkids to do it in hopes they can perhaps surpass her achievements in the Pueblo pottery world. Her son Loren Wallowing Bull is already making an imprint with his distinctive pottery.

100 West San Francisco Street, Santa Fe, New Mexico 87501
(505) 986-1234 - www.andreafisherpottery.com - All Rights Reserved