Erik Fender
San Ildefonso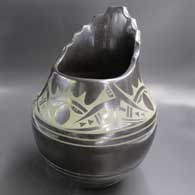 ---
Erik Fender was born in 1970. His mother is Martha Appleleaf, his grandmother Carmelita Dunlap. Johnnie Tse-Pe was his uncle.
As a boy, Erik learned about working with clay by watching his mother, his grandmother and his uncle, Carlos Sunrise Dunlap, making pottery. He couldn't keep his hands out of the clay and learned quickly. He was earning blue ribbons for his painting and for his pottery before he was 18. Sometimes his mother had him paint pots for her.
Erik developed an innovative black-on-red style where he separates bands of painted design with bands of low-relief sgraffito design. He also makes green-on-black and polychrome pots.
Erik told us he's inspired by historic pieces of San Ildefonso pottery. He feels the spirit in it and wants to keep that spirit alive in his pueblo. So in addition to creating San Ildefonso Revival styles of his own, he teaches classes in making pottery and jewelry at the Poeh Cultural Center at Pojoaque Pueblo. That's where he gets his fun: hanging out with his students and sharing insights about Tewa culture and history.
Erik says he's drawn from designs of the past to help create his own. His pots speak for themselves, and that's the kind of legacy he wants. He signs most of his pieces Than Tsideh, meaning: Sunbird.
Some Awards Erik has Earned
2020 Heard Museum Guild Indian Fair & Market, Classification II - Pottery, Division A- Painted, native clay, hand built, fired out-of-doors: First Place. Awarded for artwork: Black-on-Black Jar
2019 Santa Fe Indian Market, Classification II - Pottery, Division C - Traditional Burnished Black or Red Ware; Incised, Painted or Carved, Category 705 - Painted designs on a black or red burnished or polished surface, any form in the style of Ildefonso: First Place
2019 Santa Fe Indian Market, Classification II - Pottery, Division D - Contemporary pottery, any form or design, using Native materials with or without added decorative elements, traditional firing techniques, Category 806 - With added elements (like beads, feathers, stone, etc.): First Place
2019 Heard Museum Guild Indian Fair & Market, Classification II - Pottery, Division E - Any design or form with native materials, kiln fired pottery: Second Place. Awarded for artwork: "Dragonfly Vase"
2018 Santa Fe Indian Market, Classification II - Pottery, Division B - Traditional Painted Pottery, Category 603 - Painted Polychrome Pottery in the Style of Cochiti, Santo Domingo, Santa Clara, San Ildefonso, Tesuque, Nambe, San Juan, Pojoaque, Any Form: Honorable Mention
2018 Santa Fe Indian Market, Classification II - Pottery, Division C - Traditional Burnished Black or Red Ware; Incised, Painted or Carved, Category 705 - Painted designs on a black or red burnished or polished surface, any form in the style of Ildefonso: First Place
2018 Santa Fe Indian Market, Classification II - Pottery, Division C - Traditional Burnished Black or Red Ware; Incised, Painted or Carved, Category 705 - Painted designs on a black or red burnished or polished surface, any form in the style of Ildefonso: Honorable Mention
2017 Santa Fe Indian Market, Classification II - Pottery, Division B - Traditional: Best of Division
2017 Santa Fe Indian Market, Classification II - Pottery, Division B - Traditional, Category 603 - Painted polychrome pottery in the style of Cochiti, Santo Domingo, Santa Clara, San Ildefonso, Tesuque, Nambe, San Juan, Pojoaque, any form: First Place
2017 Santa Fe Indian Market, Classification II - Pottery, Division D - Contemporary Pottery, any form or design, using Native materials with or without added decorative elements, traditional firing techniques, Category 806 - With added elements (like beads, feathers, stones, etc), any form: Second Place
2017 Heard Museum Guild Indian Fair & Market, Classification II - Pottery, Division A - Painted, Native Clay, Hand Built, Fired Out-of-Doors: Second Place. Awarded for Art Work: Black-on-Black Jar
2014 Heard Museum Guild Indian Fair & Market, Classification II - Pottery, Division A - Traditional, native clay, hand built, painted: Second Place
2013 Heard Museum Guild Indian Fair & Market, Classification II - Pottery, Division A - Traditional, native clay, hand built, painted: Honorable Mention
2012 Heard Museum Guild Indian Fair & Market, Classification II - Pottery, Division A - Traditional, native clay, hand built, painted: Second Place
2010 Heard Museum Guild Indian Fair & Market, Classification II - Pottery, Division A - Traditional, native clay, hand built, painted: Honorable Mention
2009 Heard Museum Guild Indian Fair & Market, Classification II - Pottery, Division A - Traditional, native clay, hand built, painted: Second Place
2008 Heard Museum Guild Indian Fair & Market, Classification II - Pottery, Division A - Traditional, native clay, hand built, painted: Honorable Mention
2008 Heard Museum Guild Indian Fair & Market, Classification II - Pottery, Division D - Traditional native clay, hand built, figurative: Second Place
2005 Heard Museum Guild Indian Fair & Market, Classification II - Pottery, Division A - Traditional, native clay, hand built, painted: Honorable Mention
2004 Santa Fe Indian Market, Classification II - Pottery, Division D - Traditional pottery, painted designs on burnished black or red surface: Best of Division
2004 Santa Fe Indian Market, Classification II - Pottery, Division D - Traditional pottery, painted designs on burnished black or red surface, Category 1101 - Jars, wedding jars: First Place
2001 Santa Fe Indian Market, Classification II - Pottery, Division D - Traditional pottery, painted designs on burnished black or red surface (in the style of Santa Clara or San Ildefonso): Best of Division shared with Martha Fender
2001 Santa Fe Indian Market, Classification II - Pottery, Division D - Traditional pottery, painted designs on burnished black or red surface (in the style of Santa Clara or San Ildefonso), Category 1103 - Bowls and jars with handles: Second Place
2001 Santa Fe Indian Market, Classification II - Pottery, Division D - Traditional pottery, painted designs on burnished black or red surface (in the style of Santa Clara or San Ildefonso), Category 1101 - Jars: First Place shared with Martha Fender
1998 Santa Fe Indian Market, Classification II - Pottery, Division D - Traditional pottery, Category 1101- Jars: Honorable Mention
1997 Santa Fe Indian Market, Classification II - Pottery, Division C - Traditional pottery, Category 1103 - Bowls: Second Place

100 West San Francisco Street, Santa Fe, New Mexico 87501
(505) 986-1234 - www.andreafisherpottery.com - All Rights Reserved