Elizabeth Naranjo
Santa Clara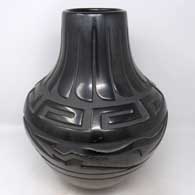 ---
Elizabeth Naranjo was born to Pablita and Jose Chavarria of Santa Clara Pueblo in 1929. Like her sisters Florence Browning, Stella Chavarria, Reycita Naranjo, Clara Shije and Mary Singer, Elizabeth learned the traditional art of making pottery from their mother. Elizabeth was known for her large, black, deeply carved wedding vases and jars, but she did make many smaller pieces (including miniatures) and some black on black pieces with painted designs. Her favorite designs included the avanyu (the mythical Tewa water serpent), clouds, feathers and kiva steps.
The One Space/Three Visions tri-cultural exhibit at the Albuquerque Museum in Albuquerque, NM, in 1979 included some of Elizabeth's work. As a potter of the Chavarria family, Elizabeth was also included in 1994's Fourteen Families in Pueblo Pottery. Elizabeth was an exhibitor at the SWAIA Santa Fe Indian Market from 1981 through 1999 and earned several awards for her work:
1981 - 2nd Place
1984 - Best of Division, traditional incised, large black carved wedding vase; 1st Place, jar over 8 inches tall; 1st Place, wedding vase
1986 - 1st Place, Carved jar over 8 inches tall; 1st Place, wedding vase
1989 - 1st Place, wedding vase
1990 - 1st Place, carved wedding vase; 3rd Place, carved bowl over 8 inches in diameter
1991 - 3rd Place, carved jar over 8 inches
1992 - 2nd Place, incised jar over 8 inces
Elizabeth passed on in 2017.

100 West San Francisco Street, Santa Fe, New Mexico 87501
(505) 986-1234 - www.andreafisherpottery.com - All Rights Reserved