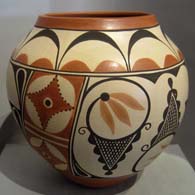 ---
Elizabeth was born into the Toya family of Jemez Pueblo in 1956 and grew up surrounded by some of the finest Jemez Pueblo potters. She made Jemez-style pottery herself until she married Marcellus Medina of Zia Pueblo in 1978. Then she moved to Zia and received permission from the Zia elders to make pottery in the Zia style. She learned Zia styles from her mother-in-law, Sofia Medina. Because she has been at Zia Pueblo and has made pottery in the Zia style most of her adult life, she is referenced as a Zia potter. Today Elizabeth is probably the finest of all working Zia potters.
Elizabeth's pieces are all hand-coiled and shaped, painted with native clays and ground fired in the traditional way. She also often collaborates with her husband, Marcellus.
In 2019, Elizabeth and her husband, Marcellus, earned the 1st Place ribbon for Painted polychrome pottery in the style of Jemez, Zia, Santa Ana, Sandia, San Felipe, Isleta, any form.

100 West San Francisco Street, Santa Fe, New Mexico 87501
(505) 986-1234 - www.andreafisherpottery.com - All Rights Reserved