Elicena Cota
Mata Ortiz and
Casas Grandes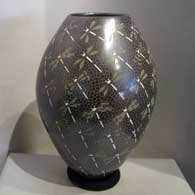 ---
Elicena Cota Lopez primarily paints brilliant colored designs on black graphite pots, a complicated process that took several potters more than ten years to perfect. But Elicena has the process down and went home from the 2013 Arizona-Sonora Desert Museum Women Potters of Mata Ortiz competition with a 3rd Place ribbon for Best of Show (traditional black category) and the 2nd Place ribbon in the Traditional Black category.
Born in 1979 in Mata Ortiz, Elicena grew up learning to make pottery with her parents and finally struck out on her own at 17 years old. A few years later she married Efrain Lucero Jr. and they often work together on their pots.
Elicena's designs usually incorporate birds or dragonflies and a tree branch or vine motif that covers the entire surface of the vessel. The base designs (tree branches, vines, flowers and bird outlines) are scratched into the vessel, then the birds and flowers are painted on.

100 West San Francisco Street, Santa Fe, New Mexico 87501
(505) 986-1234 - www.andreafisherpottery.com - All Rights Reserved