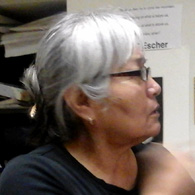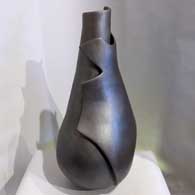 ---
Christine Nofchissey was born in December, 1948, and grew up mostly in the Clifton-Morenci area of Arizona. Her father was a heavy equipment operator in the open pit copper mines there. Proud to be 100% Navajo, she spent most of her early summers herding sheep with her grandmother near Ganado on the Navajo Nation. She graduated from Santa Fe's Institute of American Indian Arts in 1968 and three years later, married Joel McHorse, a silversmith from Taos Pueblo (Joel's father was an Irish-Texan cowboy, hence the name).
Christine says she learned most of her pottery making techniques from Joel's grandmother, Lena Archuleta. Typical Taos pottery is simple and elegant with few decorative elements beyond the surface of micaceous clay. The tiny flecks of mica infuse the clay and act as temper when the clay is fired. When she does add design, her designs are drawn from the rich pantheon of Navajo tradition.
Christine grew up Navajo, then married into Taos Pueblo and now lives among Anglos in Santa Fe. She feels that none of the three cultures has much influence over how she works: she creates whatever she feels the clay suggesting that she create. The freedom of expression that comes with that extends even to the process whereby she fires her pots. Some pots are fired the Navajo way, in a pit outdoors, then coated in pinon pitch. Others are fired indoors in a kiln. Still others are fired in a kiln, then refired outdoors to produce the interaction between fire and pinon pitch that she feels the fire clouds on a particular piece demand. Always, she approaches her art with the depth of Navajo spirituality and Earth-connection infused in her during those long summers spent on the Navajo Reservation with her grandmother.
Christine's resume lists pages of honors and awards she's won and exhibitions she's participated in over the years, beginning with her first submission to the SWAIA Santa Fe Indian Market in 1984. She earned at least one blue ribbon almost every year she went to the Santa Fe Market. In 1992 she went to Santa Fe with only 2 pots, entered them in 2 different categories, earned 2 blue ribbons, returned to her booth and a waiting line of would-be buyers, and was headed back home by mid-morning of the first day, sold out.
She doesn't participate in Indian Market any more, she's graduated to the world stage and is shown in exhibitions and galleries from Santa Fe to New York to Canada and Germany. As she has said, "The ribbons and things are just bonuses. What I like is the opportunity to work without restraint."
While Christine may not participate in Santa Fe's Indian Market any more, she has participated for several years now in the "Best of the Best Show" at Andrea Fisher Fine Pottery, a show which opens just before Indian Market officially begins.

100 West San Francisco Street, Santa Fe, New Mexico 87501
(505) 986-1234 - www.andreafisherpottery.com - All Rights Reserved