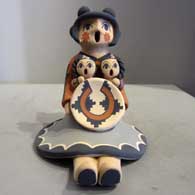 ---
Chrislyn Fragua was born to Philip and Linda Lucero Fragua at Jemez Pueblo in November of 1973. She grew up surrounded by a family of potters and now says she began creating with clay with her mother when she was about eleven years old.
Chrislyn shows her work at the Walatowa Cultural Center in Jemez, the Heard Museum in Phoenix and the Eight Northern Pueblos Arts and Crafts Show, where she's won a 2nd Place ribbon for one of her miniature nativity sets.
Chrislyn says she gets her inspiration from her mom and prefers to work with small storyteller figures. She also likes to make small nativities, too, but she makes whatever the clay asks of her.

100 West San Francisco Street, Santa Fe, New Mexico 87501
(505) 986-1234 - www.andreafisherpottery.com - All Rights Reserved