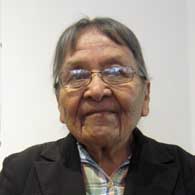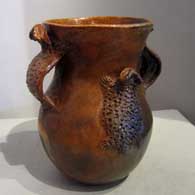 ---
Betty Manygoats doesn't speak English. She has always led a simple life in the remote reaches of the Navajo Nation, so remote she was home-schooled by her father because it was just too far to get her to a school. At the age of twenty-five she learned how to make pitch pots from her maternal grandmother, Grace Barlow, and before long she was teaching Navajo pottery making at the Tuba City High School.
Her most important students have been her children and she still supervises their efforts and encourages them in the art. Breaking with Navajo tradition, her husband joins her in pottery making to help support their family.
Betty also went against Navajo teachings when she first put horned toads on her vases. Traditional Navajos believe it best to avoid the horned toad and that "messing" with him brings bad luck. Being a Christian, Betty doesn't pay much attention to traditional superstitions. Besides, she's become rather famous for the horned toads that decorate her pots.
Betty has taught several of her children to make pottery and counts Elizabeth Manygoats, Rose Williams and Louise Goodman among her well-known potting relatives. Over the years she has participated in shows at the Museum of Northern Arizona in Flagstaff, the Santo Domingo Arts and Crafts Show at Santo Domingo Pueblo and the Window Rock Arts and Crafts Show in Window Rock, Arizona.
The traditional Navajo wedding vase with a top handle spanning two spouts is Betty's favorite piece to make (with plenty of horned toads decorating the surface, too), but she is not limited in her scope of imagination or abilities. She uses the widest range of motifs on her pottery of any current Navajo potter and she occasionally paints her figures to add more detail. She sometimes has up to ten pieces at a time spread out on her kitchen table, all hand coiled, decorated and waiting to be ground fired, then coated with pine pitch.
Betty has not always signed her pots, but when she has she usually signs with her initials: BM or BBM. On occasion, she has signed her work with her name printed in full, "BETTY MANYGOATS", as well as in cursive signature style, "Betty B Manygoats".

100 West San Francisco Street, Santa Fe, New Mexico 87501
(505) 986-1234 - www.andreafisherpottery.com - All Rights Reserved