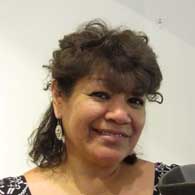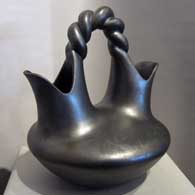 ---
Angie Yazzie was born into Taos Pueblo in 1965. Her parents were Mary A. Archuleta of Taos Pueblo and Nick Yazzie of the Navajo Nation. In keeping with Pueblo tradition Angie was raised at Taos Pueblo.
Angie tells us she began making pottery when she was nine years old after being introduced to the basics by her mother and her maternal grandmother, Isabel Archuleta. Angie said she lived with her maternal grandparents for several years as a child and through them and their shop at the pueblo, she was exposed to the whole range of Pueblo arts and crafts. Clay Mother, though, is who Angie has heard calling her to work all these years.
After learning the barest basics, Angie struck out on her own and learned to make large golden and black micaceous ollas, like the ollas Taos was famous for making a hundred and more years ago. Micaceous clay has tiny flecks of mica spread throughout the clay. That mica makes it possible for a pueblo pot to hold liquids for cooking or storing. There are two seams of micaceous clay on the lands of Taos Pueblo: one golden and one black.
Angie has told us her favorite shape to make is a large, fluted water jar, slipped with micaceous clay. It is exactly that type of jar that has earned her Best of Division and 1st Place ribbons at the Heard Museum Guild Indian Art Fair, Best of Division and 1st, 2nd and 3rd Place ribbons at the SWAIA Santa Fe Indian Market and 1st Place ribbons at the Eight Northern Pueblos Arts and Crafts Show.
Angie says she still gets her inspiration from her fond memories of her maternal grandmother. At the same time, she loves to look at other artists creations and talk to them about how they made it.

100 West San Francisco Street, Santa Fe, New Mexico 87501
(505) 986-1234 - www.andreafisherpottery.com - All Rights Reserved