Angel Bailon
Santo Domingo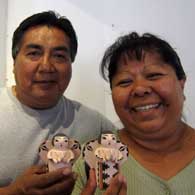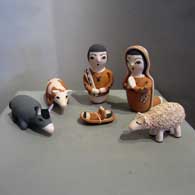 ---
Angel Bailon was born to Edna Marie Coriz and Luciano Coriz at Santo Domingo Pueblo in December, 1968. Her heritage is 1/2 Santo Domingo, 1/4 Jemez and 1/4 Laguna. She's been making pottery since she began to learn from her mother when she was about 13 years old.
After Angel married Ralph Bailon she has been mostly constructing the pots, storytellers and nativity sets while he paints the designs. Among the other potters in Angel's family are Judy Toya (a well-known storyteller maker) and Kathleen and Adrian Wall, all of Jemez Pueblo.
Angel only participates in the Santo Domingo Arts and Crafts Show on Labor Day Weekend at Santo Domingo Pueblo. Her favorite shapes to make are angels, her favorite designs to work with are traditional and geometric, and she says she gets her inspiration from her family. Angel and Ralph both say they love making their pottery and they especially love to hear when people enjoy their work.

100 West San Francisco Street, Santa Fe, New Mexico 87501
(505) 986-1234 - www.andreafisherpottery.com - All Rights Reserved