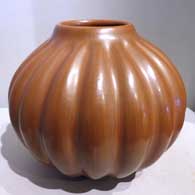 ---
Born in 1959, Alton Komalestewa is a great grandson of Nampeyo of Hano and grandson of William Komalestewa (Nampeyo and Lesso's third child). His genealogy is a bit different in that his descent is through the male line and is not often recognized in the matriarchal Hopi-Tewa genealogy.
After high school, Alton met and married Jeanne Shupla of Santa Clara. He moved to Santa Clara and learned to make traditional pottery from his mother-in-law, Helen Shupla. He got so good at it that some of his melon pots are almost indistinguishable from hers.
Helen was married to Kenneth Shupla, a Hopi kachina-carver, and it was during a family visit to Hopi that Helen became aware of the wonderful plasticity in Hopi clay. After returning to Santa Clara she began experimenting with Santa Clara clay and finally developed her distinctive style of making melon jars by using the "repousse" technique of pushing out the ribs, rather than carving them in. It's that method of working with clay that Alton learned from her.
Helen died in 1985 and Jeanne in 1989. Alton was devastated by the loss and soon after he moved back to Hopi where he met and married Pam Lalo. A few years later they divorced and Alton returned to Santa Clara Pueblo.
At Hopi, Alton wasn't able to get the Santa Clara clay he was used to working with so he got together with his cousin, Jake Koopee, and Jake helped him to make the adjustment. It was in this teaching process that Jake Koopee produced the only melon jars he ever made, and he made them only to show Alton that it could be done.
Alton still produces melon jars, almost exactly as he learned from Helen Shupla, and has taught his son Matthew to do the same.

100 West San Francisco Street, Santa Fe, New Mexico 87501
(505) 986-1234 - www.andreafisherpottery.com - All Rights Reserved