Adrian Corona
Mata Ortiz and
Casas Grandes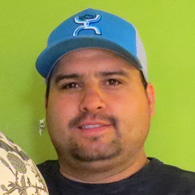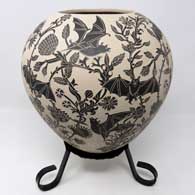 ---
Born in February 1987, Adrian Corona learned to make pottery from his mother, Ana Trillo, starting when he was about 15 years old. In 2010 he earned a 1st Prize ribbon at the Concorso National de la Ceramica in Tlaquepaque, Mexico. He also earned a 1st Prize ribbon that year for New Design.
Adrian loves to travel and says he's gotten a lot of his inspiration from Egypt and from the Mayas. He works on all sizes of pots but his favorite designs include birds and animals. A lot of his work since 2017 has included sgraffito black bats in a nature motif.
As with most potters we asked Adrian about how long it takes him to complete a pot. Adrian said it usually takes him about 10 days to finish each piece.

100 West San Francisco Street, Santa Fe, New Mexico 87501
(505) 986-1234 - www.andreafisherpottery.com - All Rights Reserved