Andrea
Fisher

Fine Pottery
Adam and
Santana Martinez
San Ildefonso
Pueblo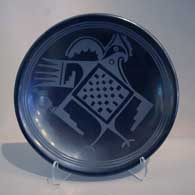 ---
Adam Martinez (1903-2000) was Julian and Maria Martinez oldest son. He grew up in a home full of highly respected potters but he was never interested beyond helping Julian gather and process clay and collect firewood and manure for the firings.
Santana Roybal (1909-2002) was born into a different family of well-known San Ildefonso potters and painters and she grew up learning to make pots from her grandmother, Dominguita Pino Martinez. She and Adam were married in 1926 and they lived in his parents home for the next 8 years. During that time Santana learned Maria's way of making pots and Julian's methods of painting them.
After Julian passed away in 1943, Adam and Santana dedicated themselves to helping Maria continue with her business. Adam took over his father's duties with gathering and processing clay and firing pots while Santana worked with Maria making pots and painting them. The signature on most of Maria's pottery made through those years (1943-1956) reads "Marie + Santana".
In 1956 Maria began working with her youngest son, Popovi Da, and Adam and Santana graduated to making pots on their own. Their signature became "Santana + Adam" and they were participants every year at the SWAIA Santa Fe Indian Market from 1970 to 1999, winning several 1st, 2nd and 3rd Place ribbons plus Best of Class and Best of Division. In 1981 they earned the "Maria Poveka Award for Best Traditional San Ildefonso Pottery."
Adam and Santana had seven children and they taught many of them how to make pottery the traditional way.

100 West San Francisco Street, Santa Fe, New Mexico 87501
(505) 986-1234
www.andreafisherpottery.com
All Rights Reserved

100 West San Francisco Street, Santa Fe, New Mexico 87501
(505) 986-1234 - www.andreafisherpottery.com - All Rights Reserved