See a larger version
Richard Zane Smith, Non-Pueblo, Polychrome jar with sgraffito and painted leaf and geometric design
Artist: Richard Zane Smith
Pueblo:
Non-Pueblo
Dimensions:
11 3/4 in H by 9 1/2 in Dia
Item Number:
xxmmg8232
Price:
$ 7600
Description:
Polychrome jar with sgraffito and painted leaf and geometric design
Condition:
Excellentℑs=4
Signature:
2018 Richard Zane Smith
Date Created:
2018
Richard Zane Smith
Wyandot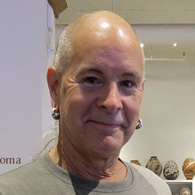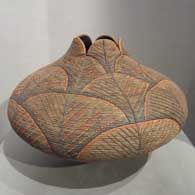 ---
Sǫhahiyo (he has a good road)

Born August 18, 1955 - raised in the St. Louis, Missouri area
1973 University City High School, University City, Mo.
1975 Meramec Community College, Associate of Art Degree, St. Louis, Mo
1976 Kansas City Art Institute; studied ceramics, Kansas City, Mo.
Seated ceremonial speaker for the Wandat Springs ceremonial grounds and enrolled with Wyandot Nation of Kansas (not federally recognized) which is however recognized by the Wyandotte Nation Oklahoma(federally recognized), the Wyandot Nation of Anderdon, and the Wendat Nation of Wendake Qc.(federally recognized).
SELECTED PUBLICATIONS:
"Spoken Through Clay" - The Eric S. Dobkin Collection, 2017, book, pp. 300-307
"American Art Collector" - magazine, issue 118, August 2015 article pp. 162-163
"The Olson- Brandelle North American Indian Art Collection" - Augustana College, 2010, pp. 254-257
"Maori Art Market 2009" - published book/catalog by "Toi Maori Aotearoa" pp. 144-45
"Design" by Steven Aimone, Lark Publishers, 2004, pp.20.
"In Touch with the Past" - Southwest Art Magazine, Aug. 2003, pp. 154-158.
"Changing Hands, Art without Reservation, 1" - American Craft Museum, 2002, Forwards by McFadden & Taubman, Merrell Publishers, pp.11,19, 26, 58, 149, 158, 180, 201.
"Contemporary Ceramics" - by Susan Peterson, Published by Watson Guptill, 2002
"Hand Built Ceramics" - by Kathy Triplett, Published by Lark Books, 1997, pp. 29, 46, & 50.
"The Craft and Art of Clay" - by Susan Peterson, Published by Overlook Press, 1996, pp. 180.
"The Pottery of Richard Zane Smith" - Ceramics Monthly, Sept. 1992, pp. 58-61.
"Modeling" (Arts and Crafts series) - Wayland Publisher, England.
"Fired Up! Making Pottery in Ancient Times" - Runestone Press, 1993, pp. 23 & 35, by Rivka Goren.
"Art of Clay" - edited by Lee M. Cohen, Clear Light Publishers, Santa Fe, NM, 1993, pp.113-119.
"Beyond Tradition, Contemporary American Indian Art and Its Evolution" by Jerry and Lois Jacka, Northland Publishing So. 1988, pp. 99 & 194
"The New Individualists" - Jerry & Lois Jacka, Arizona Highways, May 1986, pp. 30 & 46.
"The Eloquent Object" - Thomas & Marcia Manhart, eds. Tulsa Philbrook Museum of Art, 1987, pp. 35 & 64.
ongoing SELECTED EXHIBITS and MUSEUM COLLECTIONS:
2018 - Commissioned art work for display in the Shawnee Tribe Cultural Center
2018 - August show and demo at Andrea Fisher Fine Pottery Gallery
2017 - August Show and Demonstration at Andrea Fisher Fine Pottery
2017 - Heard Museum exhibit, "Beauty Speaks for Us" showing till April
2017 - Autry Museum of the Amewrican West, Los Angeles Ca . a piece for their permanant Collection
2016 - commissioned work for the cultural resorce museum - Eastern Shawnee Nation of Oklahoma
2015 - commissioned piece for the Muscarelle Museum of Art at the College of William and Mary Virginia
through 2016 - continual shows - Blue Rain Gallery, Santa Fe, NM.
2014 - Kokiri Putahi 2014 7th gathering of International Indigenous Visual Artists, New Zealand;
- Te Runanga A Iwi O Ngapuhi art exhibition in the Toi Ngapuhi Exhibition

2009 - Invited guest artist - Maori Art Market 2009 Porirua, New Zealand
2009 - National Cowboy and Western Heritage Museum , for their permanent collection
2007 - Heard Museum exhibit, Phoenix Az.
2007-08 - New York, NY. and Chicago Ill. , S.O.F.A. Shows , Blue Rain Gallery
2006 - Palm Springs California ,Blue Rain Gallery of Santa Fe, traveling group exhibit
2003 - "NDN ART" Booksigning and Exhibit. College of Santa Fe, Santa Fe, NM
2002 - "Changing Hands: Art without Reservations" American Craft Museum, NYC, NY
2001 - Heard Museum, Phoenix, Az. Solo Exhibit
2000 - San Francisco, Calif. , Blue Rain Gallery of Santa Fe, traveling group exhibit
1998-99 - "Head & Heart & Hands", touring exhibition presented by the Kentucky Art and Craft Gallery, Louisville, KY
1997 - "Celebrating American Craft", exhibition Kunstindustrie Museum, Copenhagen, Denmark
1995 - Wyandot County Historical Museum, Bonner Springs, KS
1994 - Philbrook Museum, Tulsa, OK. Permanent Collection.
1991 - Gallery 10, "New Works", solo exhibition, Scottsdale, AZ
1991 - Kavesh Gallery, "The West in Image and Object", Ketchum, ID
1991 - San Diego Museum of Man, "All is More Beautiful", group exhibit and lecture.
1987-89 - "The Eloquent Object", traveling exhibition of the Philbrook Musuem of Art, Philbrook Art Center, Tulsa, OK
1989 - Denver Art Museum, Denver, Co., Permanent Collection
2003 - American Craft Museum, NY, NY., Permanent Collection
LECTURES AND DEMONSTRATIONS:
2017 - Wendat pottery workshop and lecture at the University of Toronto, Mississauga, Ontario
2016 - Guest speaker at the opening of Indigenous Beauty, Masterworks of American Indian Art from the Diker Collection, Toledo Museum of Art, Toledo OH
2014 - slide presentation Philbrook Museum, Tulsa, OK
2014 - Kokiri Putahi, 2014, 7th gathering of International Indigenous Visual Artists, New Zealand
- Te Runanga A Iwi O Ngapuhi, art exhibition in the Toi Ngapuhi Exhibition

2012 - Presentation given "Circling Back, Recovery of Wendat-Wyandot(te) Lifeways", (Congrès d'études wendat et Wyandot )Wendat and Wyandot Studies Conference Wendake, PQ, 13-16th June 2012
2009 - Lecture / powerpoint presentation at "Toihoukura" Art School in Gisborne, New Zealand
- also at "Te Wananga o Aotearoa" Whirikoka Campus, also in Gisbourne, New Zealand

2006 - participated in Panel discussion of three Native artists; Jody Folwell, Roxanne Swentzil and myself at the Denver Art Museum
2003 - Pottery Demonstration, slide/lecture. Workshop. Philbrook Museum, Tulsa, OK
2001 - Pottery Demonstration, slide/lecture. The Heard Museum, Phoenix, AZ
2000 - Kanehsatake High School, Mohawk Reserve, Quebec, Canada. Demonstration and slide presentation.
1998 - San Juan Campus, Blanding, UT, Lecture, slide presentation, and demonstration.
1998 - L'Abri Conference on Creation and Culture, Rochester, MN. slide presentation, and demonstration.
1994, 1996, 1997 - Meramec Community College, St. Louis, MO, slide lecture and demonstration.
1991 - Kansas City Art Institute, Kansas City, KS. Lecture and demonstration.
1991 - University of Regina, Saskatchewan, Canada. Lecture and week demonstration.
1991 - National Council of Education for the Ceramic Arts, Arizona State Univ. Tempe, AZ. Demonstration.
1990 - Wheelwright Museum of the American Indian, "Historic & Modern Pueblo Ceramics: Tradition and Change", sponsored by Recuros de Santa Fe, NM
TEACHING (art related)
2018 - One month program at Spiva Center for the Arts, Joplin, MO, for 3rd graders
2018 - Intense two week pottery instruction of Wendat/Iroquoian pottery techniques with Jennifer Stevens
2017 - Pottery lessons off and on through the year with Carrie Lind and others
2016 - At my studio Shawnee ancestral pottery workshops with the Shawnee Tribe of Oklahoma
2015 - At my studio revitalization pottery workshop with the Shawnee Tribe of Oklahoma
2012 - At my studio, Seneca/Cayuga , Iroquoian pottery techniques
2010 - At my studio , traditional Wendat/Iroquoian pottery workshop, 8 weeks
2006 - Instructor for a non-federally-recognized Cherokee group, 8 week traditional pottery workshop
- Also an Eastern Shawnee, traditional pottery workshop

2001, 2003, 2007 - Wendake Reserve CDFM, Community College, Lorette, PQ, Canada, week-long workshops
2003-04 - Pottery Workshop for tribal members, Wyandotte, OK
2001 - Instructor, Rehoboth High School, Gallup, NM. week Summer Pottery Workshop
1998 - Instructor, "From the Earth" One week workshop, San Juan Campus, Blanding, UT
1982 - Instructor, "Anasazi Pottery Traditions", Northland Pioneer College, satellite program, one semester, Ganado, AZ
1978-79 - Art Instructor, Sun Valley Navajo Mission School, Holbrook, AZ
HONORS
2010 - First Peoples Fund: 2010 Community Spirit Awards (for clay, storytelling and Wyandot songs for children)
2007 - Honored at Wyandotte Nation Pow-wow (for Wyandot language revitalization effort and teaching language to children in The Wyandotte Public School district - 7 years total
1983 - Heard Museum Guild: Native American Art Show - Best of Pottery
since 1985 -- I haven't entered any art competitions
VOLUNTEER
Teaching (Wyandot language and cultural arts)

2018: Story telling for the pre-school at the Learning Center in Grove, OK
2005-2016: Storyteller for public schools in Grove and Wyandotte, OK
2013-2017: Wandat Language Facebook site to teach and share Wandat Language material
2005-2012: Teaching Wandat language/culture in the Wyandotte Public Schools, Wyandotte OK
2009-2012: Teaching Wandat language to preschoolers, Turtle Tots preschool, Wyandotte OK
2012-2013: Teaching adult Wyandot language class on Thursday evenings
presently: Holding ocassional traditional bowmaking sessions (ex. Our Wandat Green Corn 2014)
I am thankful to my family and for the support and encouragement, and my parents who gave me an insatiable appetite to seek the truth. To All my First Nations brothers and sisters, and all the children who urge me on by their love of singing in Wyandot and their love of storytelling…
I'm most grateful to my wife Carol, my constant companion for 37 years, her steadfastness, her friendship, her patient love and thoughtfulness. Above all I'm thankful to our Creator who is more mysterious and greater than anything I could have ever imagined.
I am a Wyandot, We never divided ourselves in pieces or parts. I know my family history and am proud to be an active tradition keeper as we seek to revive our ceremonies, our dances, our songs and our language. However because the Wyandot Nation of Kansas is not yet federally recognized nor state recognized I will NOT sell my art work as "Indian Made" or "Indian Art" or even "Wyandot Art". I sell my artwork as Richard Zane Smith an artist, and as a Wyandot descendant.
Print this biography (.pdf)
Pottery Care & Consideration
The most obvious tip: Yes, the pots will break if you drop them!
Do not expose pottery to water (Inside or outside). Do not wipe with a damp cloth.
Dust pottery only with a soft, smooth cloth (no terry cloth or textured fabric). A very soft paintbrush (sable or camel) can be used.
Always use two hands to carry your pot: one on top and one on the bottom, or one hand on each side. Be careful with handles, they can be fragile. Do not grip or lift pots by the rim. Take care when wearing jewelry, rings can scratch the finish.
Place a piece of felt or cloth between the pot and the shelf to protect the signature.
Avoid exposing pottery to extreme temperature changes.
For those who live in "earthquake country" (also good for mischievous pets):
Weigh pots down with a small zip lock bag containing sand, glass marbles, rice, etc. Do not fill the pot more than one third full as you want them bottom heavy. Remember to remove the weight before moving.
Secure your shelves; make sure they are well attached to the walls. Shelf brackets should be of sufficient length and strength to support the weight of your pottery.
Prevent pots from sliding. Consider attaching a small wooden molding to the front of shelves. Line shelves with non-slip material (a thin sheet of rubber foam, Styrofoam sheeting, etc.)
If you need assistance with special problems, major cleaning (your grandchild spills ice cream on your pot), restoration or repair (the cat breaks a pot), or replacement (irreparable damage), please feel free to call us.
We hope these ideas help you maintain the beauty and value of your pottery for years of enjoyment.
Print this page (.pdf)

100 West San Francisco Street, Santa Fe, New Mexico 87501 (505) 986-1234
www.andreafisherpottery.com



Copyright © 1998-2019 by
Andrea Fisher Fine Pottery
All Rights Reserved