See a larger version
Anderson Peynetsa, Zuni, Polychrome jar with deer, heart line and geometric design, 3rd place ribbon from SWAIA 1995
Artist: Anderson Peynetsa
Pueblo:
Zuni
Dimensions:
7 3/4 in H by 8 1/2 in Dia
Item Number:
lfzud9304
Price:
$ 650
Description:
Polychrome jar with deer, heart line and geometric design, 3rd place ribbon from SWAIA 1995
Condition:
Excellent
Signature:
A.A. Peynetsa Zuni, NM
Date Created:
1995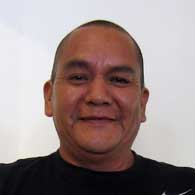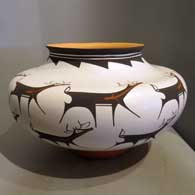 ---
Anderson Peynetsa was born to Charles and Wilma Peynetsa of Zuni Pueblo in 1964. Like his sisters Agnes and Priscilla, Anderson learned to make pottery the traditional way when he took Jennie Laate's class at Zuni High School (he actually got into the class while in 8th grade). He became one of Jennie's star students and he's been making pottery ever since, participating in shows at the Tucson Fine Arts Museum, Eight Northern Pueblos Arts and Crafts Show at Ohkay Owingeh (NM), the Heard Museum in Phoenix, the Zuni Show at the Museum of Northern Arizona in Flagstaff and at the SWAIA Santa Fe Indian Market.
Anderson's favorite styles are the water jar and the duck pot (with owl and parrot variations). His pottery sizes vary from just a few inches high and in diameter to 18" tall and 16" across. His favorite designs to paint are his signature "Walking Deer with Heart Line" design, traditional Zuni patterns and other geometric designs. He told us he gets his inspiration from seeing what others are doing in the art, pottery and jewelry worlds at Zuni Pueblo.
Anderson also says he was inspired by Jennie Laate to help rebuild the legacy of pottery making at Zuni Pueblo and he's always surprised at the impact he has had on the pueblo. And he always recommends learning to make pottery the traditional way, especially for the meditational and healing aspects of the process.
Print this biography (.pdf)
Zuni Pueblo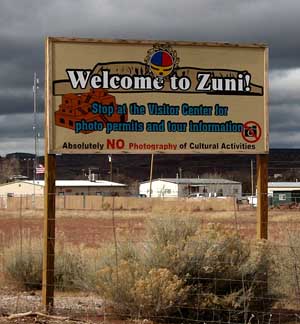 Welcome sign at Zuni Pueblo
Archaeologists have dated some sites on the Zuni Reservation back to the Paleo-Indian Period, more than 4,500 years ago. During the Archaic Period (2,500 BC to 0 AD), the forebears of the Zuni were hunter-gatherers and just beginning to develop agriculture. The Basketmaker Period (0 AD to 700 AD) saw agriculture become more developed and the Zunis were making their first pottery. The Pueblo I Period (700 AD to 1100 AD) saw an expansion of the population and settlements in the Zuni River area along with the development of the first painted Zuni pottery.
The Pueblo III Period (from 1100 to 1300 AD) saw further population growth in the Zuni River area and a shift from small houses to larger, plaza-oriented villages. The Pueblo IV Period (1300 to 1500 AD) was the time of the great drought and migrations as many tribal groups abandoned the Four Corners area and moved to locations near the Rio Grande, Rio Puerco, Zuni River and Little Colorado River. The main Zuni Pueblo was founded during this time but there were several other large villages in the area, too.
In 1540 there was a major battle fought between the Zunis and the forces of Francisco Vasquez de Coronado. Coronado was almost killed but his soldiers did win the battle. As Coronado traveled with horses and sheep, they were probably the first such livestock the Zunis had ever seen.
In 1542 Coronado passed by Zuni again on his way back to Mexico. He left three Mexican Indians behind with the tribe and they most likely informed the tribal leaders of the extent of the Spanish domain in Mexico and the power they exercised there.
The Zunis were mostly left alone until a Catholic mission was built at Hawikku in 1629. At first the Zunis were friendly with the priests but that had changed drastically by the time of the Pueblo Revolt of 1680. The tribe built a village near their fortress at Dowa Yalanne and prepared to defend their people and way of life against the Spanish army. Don Diego de Vargas arrived in 1692 and was allowed to ascend to the top of Dowa Yalanne. He found many relics from the destroyed missions there and was able to arrange a peace between the Spanish and the tribe. Between 1693 and 1700 the tribe consolidated all their small villages into what is now the Pueblo of Zuni.
The railroads arrived in New Mexico in the 1880's and right behind them came the first Anglo traders. Over the next 50 years Zuni pottery turned more and more to what the traders wanted. With the push into mass production, the quality fell off. The end result was the value of Zuni pottery fell way off and the potters tired of what they were doing. Pottery making dropped off in the 1940's until only ceremonial vessels were being made. The Zuni pottery revival began after Daisy Hooee began teaching pottery making at Zuni High School in the 1960's and 1970's. Josephine Nahohai brought traditional Zuni pottery designs back into the community in the 1980's and Jennie Laate continued teaching pottery making at Zuni High School. Many of today's well known Zuni potters thank Jennie Laate for her teaching and inspiration. In the 1990's Noreen Simplicio taught pottery making at Zuni High School and for several years in a row, she had more than 100 students in her class.
Today, because so many Zuni potters learned their craft at Zuni High School, they mostly also use electric kilns for firing their works. Other than that, they all use the same traditional methods of gathering and processing the clay, making their pottery and painting their designs, traditional processes that are practiced in virtually the same way in all the pueblos.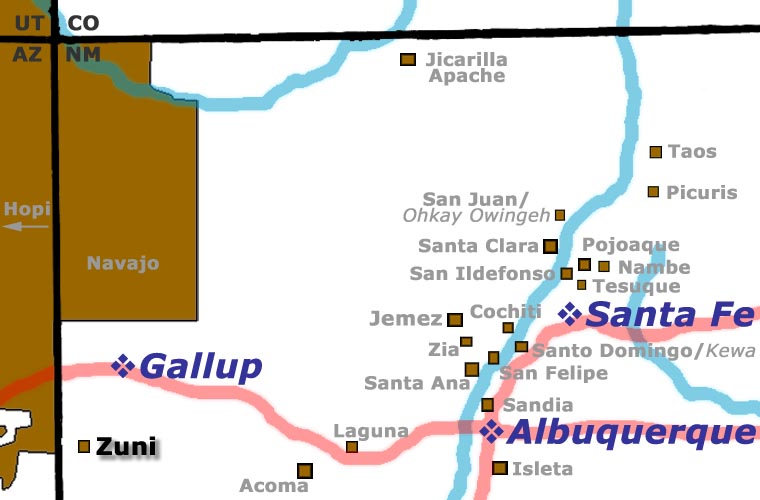 For more info:
Zuni Pueblo
at Wikipedia
Pueblo of Zuni
official website
Photo courtesy of Ken Lund, Creative Commons Attribution-Share Alike License 2.0 Generic
Print this Pueblo History(.pdf)
Zuni Teaching Tree
Disclaimer: This "family tree" is a best effort on our part to determine who the potters are in this group and arrange them in a generational order. The pottery tradition at Zuni almost died out until Daisy Hooee (granddaughter of Nampeyo of Hano, Hopi-Tewa) took on the job of teaching pottery at Zuni High School in the early 1950's. This diagram is subject to change should we get better info.
---
Daisy Hooee


Her students:

Josephine Nahohai
Her descendants who became potters:


Irene Nahohai
Milford Nahohai
Randy Nahohai & Rowena Him Nahohai
Their descendants who became potters:

Priscilla Tsethlikai
Jennie Laate


Her students:

Carlos Laate
Gabriel Paloma
Agnes Peynetsa
Anderson Peynetsa & Avelia Peynetsa
Their descendants who became potters:

Priscilla Peynetsa & Daryl Westika
Their descendants who became potters:

Noreen Simplicio

- learned from Jennie Laate, took over teaching the class

Pottery Care & Consideration
The most obvious tip: Yes, the pots will break if you drop them!
Do not expose pottery to water (Inside or outside). Do not wipe with a damp cloth.
Dust pottery only with a soft, smooth cloth (no terry cloth or textured fabric). A very soft paintbrush (sable or camel) can be used.
Always use two hands to carry your pot: one on top and one on the bottom, or one hand on each side. Be careful with handles, they can be fragile. Do not grip or lift pots by the rim. Take care when wearing jewelry, rings can scratch the finish.
Place a piece of felt or cloth between the pot and the shelf to protect the signature.
Avoid exposing pottery to extreme temperature changes.
For those who live in "earthquake country" (also good for mischievous pets):
Weigh pots down with a small zip lock bag containing sand, glass marbles, rice, etc. Do not fill the pot more than one third full as you want them bottom heavy. Remember to remove the weight before moving.
Secure your shelves; make sure they are well attached to the walls. Shelf brackets should be of sufficient length and strength to support the weight of your pottery.
Prevent pots from sliding. Consider attaching a small wooden molding to the front of shelves. Line shelves with non-slip material (a thin sheet of rubber foam, Styrofoam sheeting, etc.)
If you need assistance with special problems, major cleaning (your grandchild spills ice cream on your pot), restoration or repair (the cat breaks a pot), or replacement (irreparable damage), please feel free to call us.
We hope these ideas help you maintain the beauty and value of your pottery for years of enjoyment.
Print this page (.pdf)

100 West San Francisco Street, Santa Fe, New Mexico 87501 (505) 986-1234
www.andreafisherpottery.com



Copyright © 1998-2019 by
Andrea Fisher Fine Pottery
All Rights Reserved