See a larger version
Sue Tapia, Laguna and San Juan, Red jar with micaceous slip and lightly carved avanyu and geometric design
Artist: Sue Tapia
Pueblo:
Laguna and San Juan
Dimensions:
3 in H by 3 1/4 in Dia
Item Number:
xxsjd9523
Price:
$ 450
Description:
Red jar with micaceous slip and lightly carved avanyu and geometric design
Condition:
Excellent
Signature:
Sue Tapia Laguna, NM
Laguna Pueblo
After the Pueblo Revolt of 1680, many Puebloans were fearful of Spanish reprisals. Spanish militias returned in 1681 and again in 1689. That first return brought them as far north as Isleta and that pueblo was attacked, looted and burned. The second return saw troops marching up to Santa Ana and San Felipe, attacking, looting and burning both. In those years, when the Puebloans became aware of approaching Spanish forces they mostly scattered into the mountains and the Spanish found empty pueblos, easy to loot and easy to burn. When Don Diego de Vargas marched north in 1692, he was intent on reconquering Nuevo Mexico and re-establishing a long-term Spanish presence there. As the conquistadors who accompanied him were on a "do-or-die" mission, the reconquest took on a tenor quite different from the previous missions...
At first de Vargas followed a path of reconciliation with the pueblos but that was soon replaced with an iron fist that brought on a second revolt in 1696. The pueblos didn't fare so well the second time around and a large number of Pueblo warriors were executed while their wives and children were forced into slavery. When word of de Vargas actions got back to the King of Spain, he ordered de Vargas banned from the New World. However, most of the damage was already done.
Many modern historians say Laguna Pueblo was established between 1697 and 1699 by refugees seeking to avoid fighting with the Spanish. Many of those refugees had left the first pueblos approached by the Spanish in 1692. They had first scattered to more remote places like Acoma, Zuni and Hopi, or to more Spanish-friendly Isleta. However, the pressure of those refugees strained the resources of the other pueblos and quickly forced the refugees to consider starting a new existence in a newly-formed pueblo. The area of Laguna had been settled several hundred years previously by ancestors of today's tribe but had been abandoned during the periods of great drought that had brought the Ancestral Puebloans (Anasazi) down from the Four Corners area to the areas where we now find the Rio Grande Pueblos. Some of the land under Laguna control has also been found to contain archaeological resources dating as far back as 3,000 BC. The prehistoric village of Pottery Mound is located just east of today's Laguna Pueblo boundary. Pottery Mound was abandoned long before the Spanish first arrived but archaeologists have followed the tracks left by Pottery Mound styles, shapes and designs to settlements in the Hopi mesas and the Four Corners area.
Over time, several villages were established in the area around Old Laguna and when the Lagunas were granted their own reservation, they were given about 500,000 acres of land, making Laguna one of the largest of all pueblos in terms of land. However, only about half the enrolled members of the tribe live at Laguna as many have been drawn to nearby Albuquerque in search of work.
Laguna and Acoma share the same language (Western Keresan), similar pottery styles and similar religious beliefs. However, pottery making almost died out at Laguna after the railroads arrived in New Mexico in 1880 and laid a primary east-west trackbed directly in front of the Laguna main pueblo. During that time period many Lagunas went to work on railroad construction crews and many of the traditional Laguna arts and crafts died out. Potterymaking never completely stopped at Laguna but by 1960 it was almost gone. Then in 1973 and again in 1974 Nancy Winslow taught two four-month arts and crafts classes at the pueblo. Among the 22 pueblo members in the first class were Evelyn Cheromiah and her daughters. Rick Dillingham quoted Evelyn Cheromiah as saying that after "looking at my mother's pottery-making tools, I got the urge of going back to making pottery." That was the beginning of today's renaissance in Laguna pottery.
Because of their geographic proximity, Laguna and Acoma clays are very similar. In some instances, it's very hard to determine if a particular pot is from Acoma or from Laguna. Laguna potters are more likely to temper their white clay with sand than with ground up pot shards like the Acomas do. Laguna geometric designs also tend to be bolder than Acoma designs while Laguna potters use Mimbres designs much more sparingly than do Acoma potters.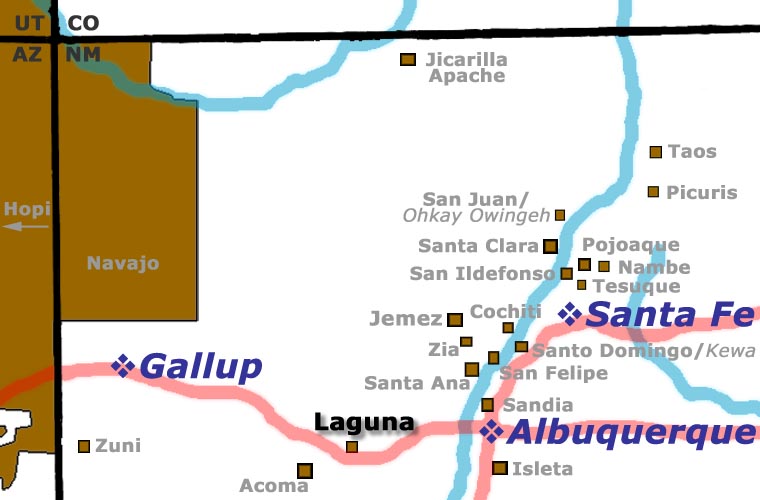 Print this Pueblo History(.pdf)
San Juan Pueblo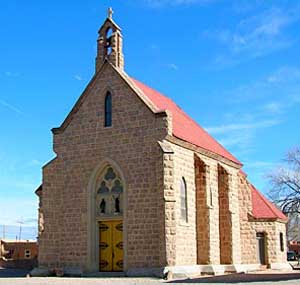 San Juan Pueblo Mission
In 2005 San Juan Pueblo officially changed its name back to the original name (before the Spanish arrived): Ohkay Owingeh (meaning: Place of the strong people). The pueblo was founded around 1200 AD during the time of the great Southwest drought and migrations. The people speak Tewa and may have come to the Rio Grande area from southwestern Colorado or from the San Luis Valley in central Colorado.
Spanish conquistador Don Juan de Oñate took control of the pueblo in 1598, renaming it San Juan de los Caballeros (after his patron saint, John the Baptist). He established the first Spanish capitol of Nuevo Mexico across the Rio Grande in an area he named San Gabriel. In 1608, the capitol was moved south to an uninhabited area that became the Santa Fe we know today.
After 80 years of progressively deteriorating living conditions under the Spanish, the tribe participated in the Pueblo Revolt of 1680 (one of the revolt's ringleaders, Popé, was a San Juan native) and helped to expel the Spanish from Nuevo Mexico for 12 years. However, when the Spanish returned in 1692 that tribal unity had fallen apart and the individual pueblos were relatively easy for the Spanish to reconquer.
Today, Ohkay Owingeh is the largest Tewa-speaking pueblo (in population and land) but few of the younger generations are interested in carrying on with many of the tribe's traditional arts and crafts (such as the making of pottery). The pueblo is home to the Eight Northern Indian Pueblos Council, the Oke-Oweenge Arts Cooperative, the San Juan Lakes Recreation Area and the Ohkay Casino & Resort. The tribe's Tsay Corporation is one of northern New Mexico's largest private employers.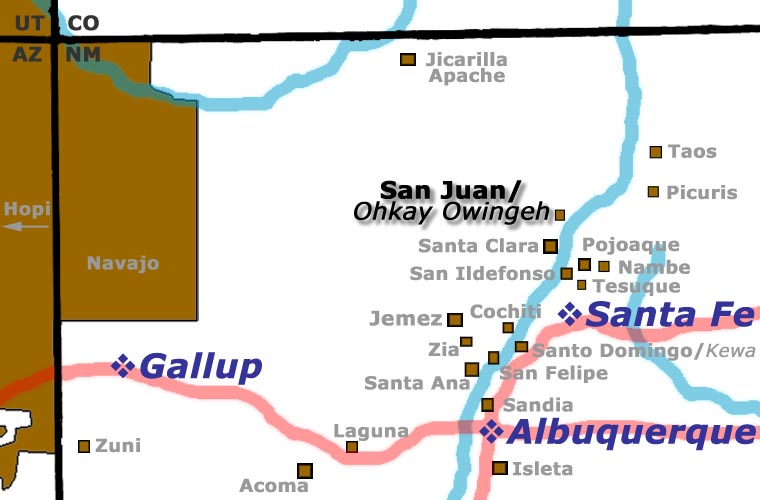 For more info:
Ohkay Owingeh
at Wikipedia
Pueblos of the Rio Grande
, Daniel Gibson, ISBN-13:978-1-887896-26-9, Rio Nuevo Publishers, 2001
Print this Pueblo History(.pdf)
Pottery Care & Consideration
The most obvious tip: Yes, the pots will break if you drop them!
Do not expose pottery to water (Inside or outside). Do not wipe with a damp cloth.
Dust pottery only with a soft, smooth cloth (no terry cloth or textured fabric). A very soft paintbrush (sable or camel) can be used.
Always use two hands to carry your pot: one on top and one on the bottom, or one hand on each side. Be careful with handles, they can be fragile. Do not grip or lift pots by the rim. Take care when wearing jewelry, rings can scratch the finish.
Place a piece of felt or cloth between the pot and the shelf to protect the signature.
Avoid exposing pottery to extreme temperature changes.
For those who live in "earthquake country" (also good for mischievous pets):
Weigh pots down with a small zip lock bag containing sand, glass marbles, rice, etc. Do not fill the pot more than one third full as you want them bottom heavy. Remember to remove the weight before moving.
Secure your shelves; make sure they are well attached to the walls. Shelf brackets should be of sufficient length and strength to support the weight of your pottery.
Prevent pots from sliding. Consider attaching a small wooden molding to the front of shelves. Line shelves with non-slip material (a thin sheet of rubber foam, Styrofoam sheeting, etc.)
If you need assistance with special problems, major cleaning (your grandchild spills ice cream on your pot), restoration or repair (the cat breaks a pot), or replacement (irreparable damage), please feel free to call us.
We hope these ideas help you maintain the beauty and value of your pottery for years of enjoyment.
Print this page (.pdf)

100 West San Francisco Street, Santa Fe, New Mexico 87501 (505) 986-1234
www.andreafisherpottery.com



Copyright © 1998-2019 by
Andrea Fisher Fine Pottery
All Rights Reserved