See a larger version
Barbara Gonzales, San Ildefonso, Black jar with sienna rim and spots plus sgraffito spider, feather and geometric design and inlaid stones
Artist: Barbara Gonzales
Pueblo:
San Ildefonso
Dimensions:
6 in H by 8 in Dia
Item Number:
wssid9256
Price:
$ 4300
Description:
Black jar with sienna rim and spots plus sgraffito spider, feather and geometric design and inlaid stones
Condition:
Excellentℑs=4
Signature:
Than Moo Whe In Harmony with Nature
Barbara Gonzales
San Ildefonso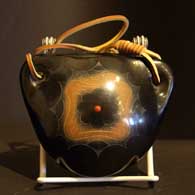 ---
Born in 1947, Barbara Gonzales is the great-granddaughter of Maria Martinez and granddaughter of Adam and Santana Martinez. She credits her great-grandmother with changing the making of pottery from a craft to a fine art, and then credits her with being a major force in the shaping and evolution of that fine art.
Barbara lived in Maria's home from the time she was five until she was ten. That is when she learned the basics of the traditional way of making pottery from her great-grandmother. Barbara says pottery making was such an integral part of Maria's family life that she organically assimilated the skills simply from being in the presence. She also traveled with Maria to sell pots to tourists under the portal at the Palace of the Governors in Santa Fe and at the train depot in Albuquerque. Her own first pieces were simple animal sculptures, then she progressed into small pots, then bowls and spheres. Slowly Barbara developed her style of small sculptures, polychrome pottery and stone-inlaid, sgraffito-etched red and black ware. Along with Popovi Da she was one of the early adopters of the two-tone technique (involving two firings to produce sienna effects on otherwise black pots). She also used inlaid turquoise, heishi beads and gemstones. Around 1973 she originated "the Spider" and "the webbing technique" in sgraffito on black pottery. That shortly became her trademark.
Barbara participated in the SWAIA Santa Fe Indian Market for many years, earning 1st, 2nd and 3rd Place ribbons often. She was included in the Maria Martinez: Five Generations of Potters exhibition at the Renwick Gallery in 1978 and the Masters of Indian Market exhibition at the SWAIA Santa Fe Indian Market in 1996.
Barbara was chosen as a representative of Maria's "craft lineage" in the 1997-8 Pottery by American Indian Women, The Legacy of Generations exhibition of the National Museum of Women in the Arts.
Print this biography (.pdf)
San Ildefonso Pueblo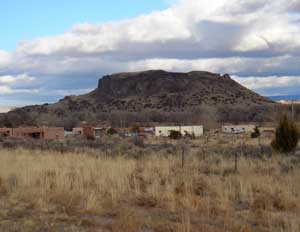 Black Mesa at San Ildefonso Pueblo
San Ildefonso Pueblo is located about twenty miles northwest of Santa Fe, New Mexico, mostly on the eastern bank of the Rio Grande. Although their ancestry has been traced as far back as abandoned pueblos in the Mesa Verde area in southwestern Colorado, the most recent ancestral home of the people of San Ildefonso is in the area of Bandelier National Monument, the prehistoric villages of Tyuonyi, Otowi, Navawi and Tsankawi specifically. The area of Tsankawi abuts the reservation on its northwest side.
The San Ildefonso name was given to the village in 1617 when a mission church was established. Before then the village was called Powhoge, "where the water cuts through" (in Tewa). Today's pueblo was established as long ago as the 1300's and when the Spanish arrived in 1540 they estimated the village population at about 2,000.
That village mission was destroyed during the Pueblo Revolt of 1680 and when Don Diego de Vargas returned to reclaim the San Ildefonso area in 1694, he found virtually the entire tribe on top of nearby Black Mesa. After an extended siege the two sides negotiated a treaty and the people returned to their village. However, the next 250 years were not good for them. Finally, the Spanish swine flu pandemic of 1918 reduced the tribe's population to about 90. The tribe's population has increased to more than 600 today but the only economic activity available for most on the pueblo involves the creation of art in one form or another. The only other jobs are off-pueblo. San Ildefonso's population is small compared to neighboring Santa Clara Pueblo, but the pueblo maintains its own religious traditions and ceremonial feast days.
San Ildefonso has produced fine ceramic art since early pre-Columbian times. The pueblo is most known for being the home of the most famous Pueblo Indian potter, Maria Martinez. Many other excellent potters have produced quality pottery from this pueblo, too, among them: Blue Corn, Tonita and Juan Roybal, Dora Tse Pe and Rose Gonzales. Of course the descendants of Maria Martinez are still important pillars of San Ildefonso's pottery tradition. Maria's influence reached far and wide, so far and wide that even Juan Quezada, founder of the Mata Ortiz pottery renaissance in Chihuahua, Mexico, came to San Ildefonso to learn from her.
Print this Pueblo History(.pdf)
Pottery Care & Consideration
The most obvious tip: Yes, the pots will break if you drop them!
Do not expose pottery to water (Inside or outside). Do not wipe with a damp cloth.
Dust pottery only with a soft, smooth cloth (no terry cloth or textured fabric). A very soft paintbrush (sable or camel) can be used.
Always use two hands to carry your pot: one on top and one on the bottom, or one hand on each side. Be careful with handles, they can be fragile. Do not grip or lift pots by the rim. Take care when wearing jewelry, rings can scratch the finish.
Place a piece of felt or cloth between the pot and the shelf to protect the signature.
Avoid exposing pottery to extreme temperature changes.
For those who live in "earthquake country" (also good for mischievous pets):
Weigh pots down with a small zip lock bag containing sand, glass marbles, rice, etc. Do not fill the pot more than one third full as you want them bottom heavy. Remember to remove the weight before moving.
Secure your shelves; make sure they are well attached to the walls. Shelf brackets should be of sufficient length and strength to support the weight of your pottery.
Prevent pots from sliding. Consider attaching a small wooden molding to the front of shelves. Line shelves with non-slip material (a thin sheet of rubber foam, Styrofoam sheeting, etc.)
If you need assistance with special problems, major cleaning (your grandchild spills ice cream on your pot), restoration or repair (the cat breaks a pot), or replacement (irreparable damage), please feel free to call us.
We hope these ideas help you maintain the beauty and value of your pottery for years of enjoyment.
Print this page (.pdf)

100 West San Francisco Street, Santa Fe, New Mexico 87501 (505) 986-1234
www.andreafisherpottery.com



Copyright © 1998-2019 by
Andrea Fisher Fine Pottery
All Rights Reserved