See a larger version
Jamie Zane Smith, Non-Pueblo, Mollusk sculpture piece with custom driftwood stand
Artist: Jamie Zane Smith
Pueblo:
Non-Pueblo
Dimensions:
8 3/4 in H by 13 3/4 in Dia Measurement includes stand
Item Number:
zjmmc9190
Price:
$ 1800
Description:
Mollusk sculpture piece with custom driftwood stand
Condition:
Excellentℑs=4
Signature:
Jamie Zane Smith
Date Created:
2019
Jamie Zane Smith
Wyandot descendant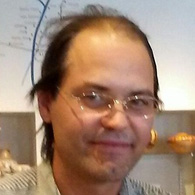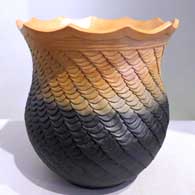 ---
Jamie Zane Smith tells us he has a strong personal commitment to building Wyandot pottery, especially in regard to retaining an integral sense of form inspired by sensibilities from a time when people were clear they were not separate from the Earth.
He uses traditional resources to create pottery that speaks to the modern world. For him, his creating of pottery is a participation in the flow of Nature, from a perspective where humans and Nature are not dueling entities but rather a single continuous flowing of prayer in a language of glory to the Creator.
Jamie has learned much through watching his uncle, Richard Zane Smith, creating his own form of Wyandot pottery. Jamie spent a year in Wyandotte, Oklahoma, studying with his uncle and has come to see the making of pottery as a spiritually honest form of sensibility. There's also something about getting his hands into and working with clay that speaks to his heart.
Jamie says he grew up in the city and has traveled the world since finishing his formal education. The time spent with his uncle convinced him that the rural way of life is the life he wants to live with his wife and their two daughters. These days they live "lightly and simply" in an old two-room schoolhouse in the Ozark Mountains of Missouri. In a small valley at the point where two creeks meet, the schoolhouse isn't changed much since the days when his wife's grandparents attended school there. Jamie says the peace and the beauty of the ever-changing wooded landscape are a constant inspiration for him.
Print this biography (.pdf)
Pottery Care & Consideration
The most obvious tip: Yes, the pots will break if you drop them!
Do not expose pottery to water (Inside or outside). Do not wipe with a damp cloth.
Dust pottery only with a soft, smooth cloth (no terry cloth or textured fabric). A very soft paintbrush (sable or camel) can be used.
Always use two hands to carry your pot: one on top and one on the bottom, or one hand on each side. Be careful with handles, they can be fragile. Do not grip or lift pots by the rim. Take care when wearing jewelry, rings can scratch the finish.
Place a piece of felt or cloth between the pot and the shelf to protect the signature.
Avoid exposing pottery to extreme temperature changes.
For those who live in "earthquake country" (also good for mischievous pets):
Weigh pots down with a small zip lock bag containing sand, glass marbles, rice, etc. Do not fill the pot more than one third full as you want them bottom heavy. Remember to remove the weight before moving.
Secure your shelves; make sure they are well attached to the walls. Shelf brackets should be of sufficient length and strength to support the weight of your pottery.
Prevent pots from sliding. Consider attaching a small wooden molding to the front of shelves. Line shelves with non-slip material (a thin sheet of rubber foam, Styrofoam sheeting, etc.)
If you need assistance with special problems, major cleaning (your grandchild spills ice cream on your pot), restoration or repair (the cat breaks a pot), or replacement (irreparable damage), please feel free to call us.
We hope these ideas help you maintain the beauty and value of your pottery for years of enjoyment.
Print this page (.pdf)

100 West San Francisco Street, Santa Fe, New Mexico 87501 (505) 986-1234
www.andreafisherpottery.com



Copyright © 1998-2019 by
Andrea Fisher Fine Pottery
All Rights Reserved