See a larger version
Lonnie Vigil, Nambe, Golden micaceous jar with fire clouds
Artist: Lonnie Vigil
Pueblo:
Nambe
Dimensions:
6 1/2 in H by 10 in Dia
Item Number:
rbnac8023
Price:
$ 1995
Description:
Golden micaceous jar with fire clouds
Condition:
Excellentℑs=4
Signature:
Lonnie Vigil Nambe Pueblo
Date Created:
Circa 1985-88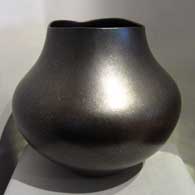 ---
Born in 1949, Lonnie Vigil had no conscious desire to become an artist when he was growing up at Nambé Pueblo. Instead, he finished high school and went on to earn a degree in business administration from Eastern New Mexico University. Then he pursued a career as a financial and business consultant, first at Eight Northen Pueblos in New Mexico and then at the Bureau of Indian Affairs in Washington, D.C.
By the early 1980s, he was becoming aware that his work and life in Washington "gave me nothing to feed my soul." A performance at the Kennedy Center called Night of the First Americans inspired him to return to Nambé, where he began working with clay. At first it was hard because there was no one to teach him. "I prayed for direction from the Clay Mother and slowly the information began to come," he says. "I also asked for the help of my great-grandmother and my great-aunts, who were all potters. And I still ask their guidance today."
Apparently he was guided into recreating Nambé Pueblo's famous micaceous clay pottery. But Nambé potters used to use micaceous clay to seal their pots for use in cooking and storage while Lonnie has elevated the use of micaceous clay to the state of a fine art. He practiced working with micaceous clay until one day he was declared the first recipient of the Ron and Susan Dubin Native American Artist Fellowship at the School for Advanced Research in Santa Fe. Upon receiving the fellowship, Lonnie said, "I am honored to be the first Dubin Fellow at such a fine institution as the School for Advanced Research. The Fellowship is an affirmation of the work I am doing." That support allowed him to take the time and study the micaceous pottery in their collections.
Micaceous pottery is distinguished by the sparkling mica flecks naturally distributed in the clay. Historically, micaceous pottery was used for cooking and storage by the people of Nambé, Picuris, Taos and the Jicarilla Apache. Overlooked by many collectors in the past, Lonnie Vigil has been characterized as single-handedly reviving unpainted micaceous clay pottery and establishing it as a contemporary art form.
Lonnie's signature large pots have won the top awards at several Santa Fe Indian Markets and he was honored with the Native Treasures 2010 Living Treasure Award. He sees himself as "a guardian of the clay" and says, "I feel responsible for making sure that the Clay Mother stays alive in my village."
Print this biography (.pdf)
Nambé Pueblo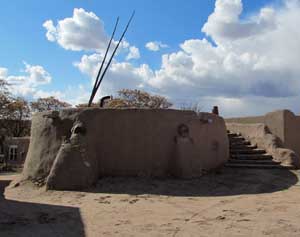 The main kiva at Nambé Pueblo
Nambé Pueblo was settled in the early 1300's when a group of Ancestral Puebloans (Anasazi) made their way from what is now the Bandelier National Monument area closer to the Rio Grande in search of more reliable water sources and more arable land.
At first they settled mostly high in the mountains, coming down to the river valleys in the summer to grow crops. Eventually, they felt safe enough to stay in the valleys and the high mountain villages were slowly abandoned.
When the Spanish first arrived, they found Nambé to be a primary economic, cultural and religious center for the area. That attracted a large Spanish presence and the nature of that presence caused the Nambé people to join wholeheartedly in the Pueblo Revolt of 1680 and throw out the Spanish oppressors.
When the Spanish returned in 1692, their rule was significantly less harsh. However, the Spanish were responsible for bringing horses into the New World and as the Spanish population increased, so did the number of horses. That brought more and more raids from the Comanches as they came for horses and whatever else of value they could carry away. The Comanches were finally subdued by Governor Juan Bautista de Anza in the 1770's but by then, the impact of European diseases was being strongly felt. It was a smallpox epidemic in the late 1820's that virtually ended the making of pottery at Nambé.
The Nambé pottery tradition is similar to that of Taos and Picuris in their use of micaceous clay slips but Nambé potters also used to produce white on red and black on black products. When Lonnie Vigil began producing his micaceous clay masterpieces about 25 years ago, he almost single-handedly jump-started the revival of pottery making in the pueblo.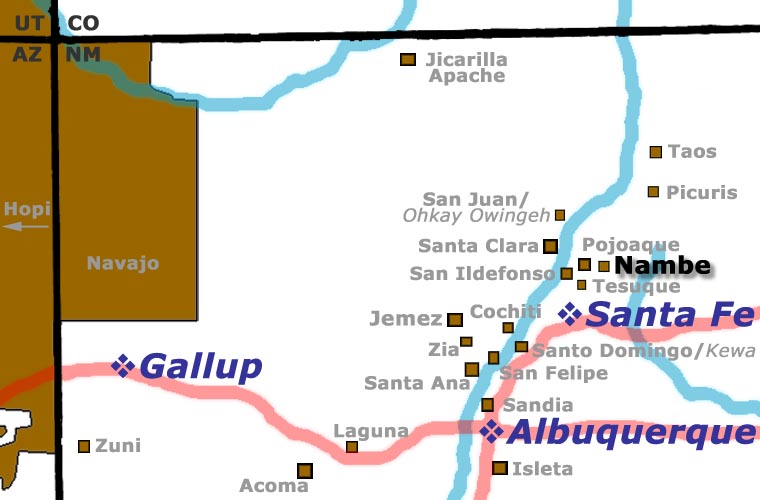 For more info:
Nambe Pueblo
at Wikipedia
Pueblo of Nambe
official website
Photo courtesy of John Phelan, Creative Commons Attribution-Share Alike 3.0 Unported License
Print this Pueblo History(.pdf)
Pottery Care & Consideration
The most obvious tip: Yes, the pots will break if you drop them!
Do not expose pottery to water (Inside or outside). Do not wipe with a damp cloth.
Dust pottery only with a soft, smooth cloth (no terry cloth or textured fabric). A very soft paintbrush (sable or camel) can be used.
Always use two hands to carry your pot: one on top and one on the bottom, or one hand on each side. Be careful with handles, they can be fragile. Do not grip or lift pots by the rim. Take care when wearing jewelry, rings can scratch the finish.
Place a piece of felt or cloth between the pot and the shelf to protect the signature.
Avoid exposing pottery to extreme temperature changes.
For those who live in "earthquake country" (also good for mischievous pets):
Weigh pots down with a small zip lock bag containing sand, glass marbles, rice, etc. Do not fill the pot more than one third full as you want them bottom heavy. Remember to remove the weight before moving.
Secure your shelves; make sure they are well attached to the walls. Shelf brackets should be of sufficient length and strength to support the weight of your pottery.
Prevent pots from sliding. Consider attaching a small wooden molding to the front of shelves. Line shelves with non-slip material (a thin sheet of rubber foam, Styrofoam sheeting, etc.)
If you need assistance with special problems, major cleaning (your grandchild spills ice cream on your pot), restoration or repair (the cat breaks a pot), or replacement (irreparable damage), please feel free to call us.
We hope these ideas help you maintain the beauty and value of your pottery for years of enjoyment.
Print this page (.pdf)

100 West San Francisco Street, Santa Fe, New Mexico 87501 (505) 986-1234
www.andreafisherpottery.com



Copyright © 1998-2019 by
Andrea Fisher Fine Pottery
All Rights Reserved