See a larger version
Sherry Tafoya, Santa Clara, Black jar carved with an avanyu and geometric design
Artist: Sherry Tafoya
Pueblo:
Santa Clara
Dimensions:
10 1/2 in H by 8 1/4 in Dia
Item Number:
xxscl8050
Price:
$ 1900
Description:
Black jar carved with an avanyu and geometric design
Condition:
Excellentℑs=5
Signature:
Sherry Tafoya Santa Clara Pueblo
Date Created:
2018
Sherry Tafoya
Santa Clara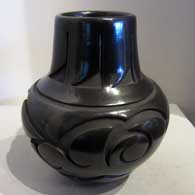 ---
Born in 1956, Sherry Tafoya is the daughter of potter Mida Tafoya, the granddaughter of Christina Naranjo (the sister of Margaret Tafoya) and the great granddaughter of Sarafina Tafoya. Surrounded by such illustrious potters, she's been making pots since she was 14.
The only show she participates in is at the annual New Mexico State Fair where she's been awarded several ribbons for her wedding vases. Her favorite shapes to make are jars and wedding vases, carved with avanyu and feather designs.
Sherry likes her carved edges very sharp, yielding a clean and crisp visual presentation that differs from the softer edges of many Santa Clara potters.
Print this biography (.pdf)
Santa Clara Pueblo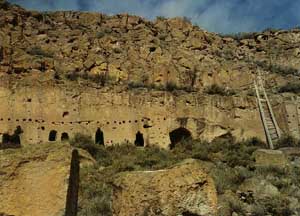 Ruins at Puye Cliffs, Santa Clara Pueblo
Santa Clara Pueblo straddles the Rio Grande about 25 miles north of Santa Fe. Of all the pueblos, Santa Clara has the largest number of potters.
The ancestral roots of the Santa Clara people have been traced to the pueblos in the Mesa Verde region in southwestern Colorado. When that area began to get dry between about 1100 and 1300, some of the people migrated to the Chama River Valley and constructed Poshuouinge (about 3 miles south of what is now Abiquiu on the edge of the mesa above the Chama River). Eventually reaching two and three stories high with up to 700 rooms on the ground floor, Poshuouinge was inhabited from about 1375 to about 1475. Drought then again forced the people to move, some of them going to the area of Puye (on the eastern slopes of the Pajarito Plateau of the Jemez Mountains) and others to Ohkay Owingeh (San Juan Pueblo, along the Rio Grande). Beginning around 1580, drought forced the residents of the Puye area to relocate closer to the Rio Grande and they founded what we now know as Santa Clara Pueblo on the west bank of the river, between San Juan and San Ildefonso Pueblos.
In 1598 Spanish colonists from nearby Yunque (the seat of Spanish government near San Juan Pueblo) brought the first missionaries to Santa Clara. That led to the first mission church being built around 1622. However, the Santa Clarans chafed under the weight of Spanish rule like the other pueblos did and were in the forefront of the Pueblo Revolt of 1680. One pueblo resident, a mixed black and Tewa man named Domingo Naranjo, was one of the rebellion's ringleaders. When Don Diego de Vargas came back to the area in 1694, he found most of the Santa Clarans on top of nearby Black Mesa (with the people of San Ildefonso). An extended siege didn't subdue them so eventually, the two sides negotiated a treaty and the people returned to their pueblo. However, successive invasions and occupations by northern Europeans took their toll on the tribe over the next 250 years. The Spanish flu pandemic in 1918 almost wiped them out.
Today, Santa Clara Pueblo is home to as many as 2,600 people and they comprise probably the largest per capita number of artists of any North American tribe (estimates of the number of potters run as high as 1-in-4 residents).
Today's pottery from Santa Clara is typically either black or red. It is usually highly polished and designs might be deeply carved or etched ("sgraffito") into the pot's surface. The water serpent, ("avanyu"), is a traditional design motif of Santa Clara pottery. Another motif comes from the legend that a bear helped the people find water during a drought. The bear paw has appeared on their pottery ever since.
One of the reasons for the distinction this pueblo has received is because of the evolving artistry the potters have brought to the craft. Not only did this pueblo produce excellent black and redware, several notable innovations helped move pottery from the realm of utilitarian vessels into the domain of art. Different styles of polychrome redware emerged in the 1920's-1930's. In the early 1960's experiments with stone inlay, incising and double firing began. Modern potters have also extended the tradition with unusual shapes, slips and designs, illustrating what one Santa Clara potter said: "At Santa Clara, being non-traditional is the tradition." (This refers strictly to artistic expression; the method of creating pottery remains traditional).
Santa Clara Pueblo is home to a number of famous pottery families: Tafoya, Baca, Gutierrez, Naranjo, Suazo, Chavarria, Garcia, Vigil, Tapia - to name a few.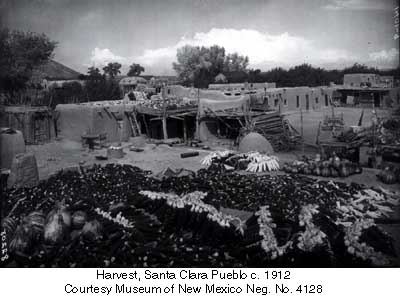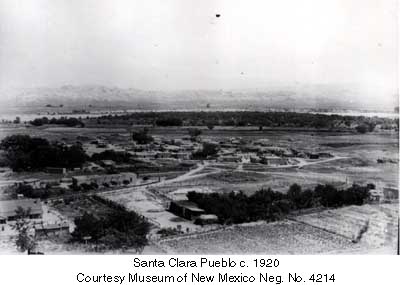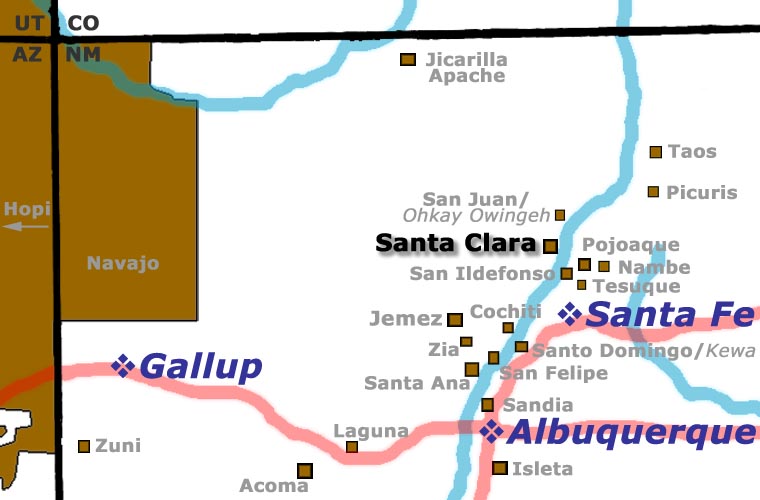 For more info:
Santa Clara Pueblo
at Wikipedia
Pueblos of the Rio Grande
, Daniel Gibson, ISBN-13:978-1-887896-26-9, Rio Nuevo Publishers, 2001
Upper photo courtesy of Einar Kvaran, Creative Commons Attribution-Share Alike 3.0 Unported License
Print this Pueblo History(.pdf)
Pottery Care & Consideration
The most obvious tip: Yes, the pots will break if you drop them!
Do not expose pottery to water (Inside or outside). Do not wipe with a damp cloth.
Dust pottery only with a soft, smooth cloth (no terry cloth or textured fabric). A very soft paintbrush (sable or camel) can be used.
Always use two hands to carry your pot: one on top and one on the bottom, or one hand on each side. Be careful with handles, they can be fragile. Do not grip or lift pots by the rim. Take care when wearing jewelry, rings can scratch the finish.
Place a piece of felt or cloth between the pot and the shelf to protect the signature.
Avoid exposing pottery to extreme temperature changes.
For those who live in "earthquake country" (also good for mischievous pets):
Weigh pots down with a small zip lock bag containing sand, glass marbles, rice, etc. Do not fill the pot more than one third full as you want them bottom heavy. Remember to remove the weight before moving.
Secure your shelves; make sure they are well attached to the walls. Shelf brackets should be of sufficient length and strength to support the weight of your pottery.
Prevent pots from sliding. Consider attaching a small wooden molding to the front of shelves. Line shelves with non-slip material (a thin sheet of rubber foam, Styrofoam sheeting, etc.)
If you need assistance with special problems, major cleaning (your grandchild spills ice cream on your pot), restoration or repair (the cat breaks a pot), or replacement (irreparable damage), please feel free to call us.
We hope these ideas help you maintain the beauty and value of your pottery for years of enjoyment.
Print this page (.pdf)

100 West San Francisco Street, Santa Fe, New Mexico 87501 (505) 986-1234
www.andreafisherpottery.com



Copyright © 1998-2019 by
Andrea Fisher Fine Pottery
All Rights Reserved