See a larger version
Clarence Cruz, San Juan, Golden micaceous jar
Artist: Clarence Cruz
Pueblo:
San Juan
Dimensions:
7 in H by 9 3/4 in Dia
Item Number:
xxsjk8053
Price:
$ 395
Description:
Golden micaceous jar
Condition:
Excellent
Signature:
Khaayay Ohkay Owingeh
Date Created:
2018
Clarence Cruz
Ohkay Owingeh


(formerly San Juan)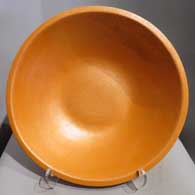 ---
Ohkay Owingeh (formerly known as San Juan Pueblo) has a long history of pottery-making. Archaeologists even date certain timespans in the Pueblo II era by the San Juan Polychrome and San Juan Blackware pot sherds that have been found in many digs. The styles were so striking for the time that archaeologists have been able to reconstruct trade routes by the date of appearance of those styles in different pueblos. But the art of making pottery the traditional way is not so widespread at Ohkay Owingeh these days.
Clarence Cruz is from Ohkay Owingeh and a graduate of the BFA and MFA programs in Studio Arts at the University of New Mexico. Clarence also served an internship at the Maxwell Museum of Anthropology and, with that, added a minor in Museum Studies to his BFA.
Clarence likes to gather all his materials himself, collecting his clays, slips, volcanic ash, mineral pigments and Rocky Mountain beeweed (for making black paint and for use as a binder) on public lands in northern New Mexico. He does all his firing the traditional way: outdoors using wood, bark and manure for reduction firing, oxidation firing and open firing (to create fire clouds).
Clarence teaches graduate and undergraduate classes in Pueblo Pottery at the University of New Mexico. He also shares his knowledge and experience in the Art and Design Department at Santa Fe Community College and in Native communities.
Because of his dedication and contributions to the art of traditional Pueblo pottery, the Southwest Association of Indian Arts and the Santa Fe Indian Market awarded Clarence the Lifetime Achievement Allan Houser Legacy Award Honoring Pueblo Potters in 2012. Clarence has also had the opportunity to travel to China as part of a UNM faculty exhibition at the Jingdezhen Ceramic Institute. UNM also hired Clarence as Consultant Curator for the Inaugural Exhibition for the Alfonso Ortiz Center at the University's Maxwell Museum of Anthropology.
Print this biography (.pdf)
San Juan Pueblo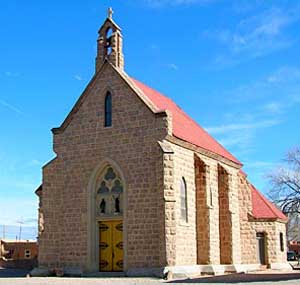 San Juan Pueblo Mission
In 2005 San Juan Pueblo officially changed its name back to the original name (before the Spanish arrived): Ohkay Owingeh (meaning: Place of the strong people). The pueblo was founded around 1200 AD during the time of the great Southwest drought and migrations. The people speak Tewa and may have come to the Rio Grande area from southwestern Colorado or from the San Luis Valley in central Colorado.
Spanish conquistador Don Juan de Oñate took control of the pueblo in 1598, renaming it San Juan de los Caballeros (after his patron saint, John the Baptist). He established the first Spanish capitol of Nuevo Mexico across the Rio Grande in an area he named San Gabriel. In 1608, the capitol was moved south to an uninhabited area that became the Santa Fe we know today.
After 80 years of progressively deteriorating living conditions under the Spanish, the tribe participated in the Pueblo Revolt of 1680 (one of the revolt's ringleaders, Popé, was a San Juan native) and helped to expel the Spanish from Nuevo Mexico for 12 years. However, when the Spanish returned in 1692 that tribal unity had fallen apart and the individual pueblos were relatively easy for the Spanish to reconquer.
Today, Ohkay Owingeh is the largest Tewa-speaking pueblo (in population and land) but few of the younger generations are interested in carrying on with many of the tribe's traditional arts and crafts (such as the making of pottery). The pueblo is home to the Eight Northern Indian Pueblos Council, the Oke-Oweenge Arts Cooperative, the San Juan Lakes Recreation Area and the Ohkay Casino & Resort. The tribe's Tsay Corporation is one of northern New Mexico's largest private employers.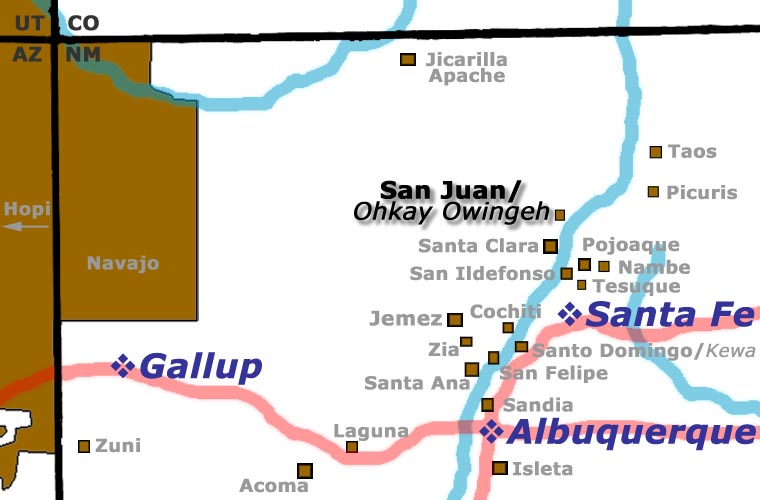 For more info:
Ohkay Owingeh
at Wikipedia
Pueblos of the Rio Grande
, Daniel Gibson, ISBN-13:978-1-887896-26-9, Rio Nuevo Publishers, 2001
Print this Pueblo History(.pdf)
Pottery Care & Consideration
The most obvious tip: Yes, the pots will break if you drop them!
Do not expose pottery to water (Inside or outside). Do not wipe with a damp cloth.
Dust pottery only with a soft, smooth cloth (no terry cloth or textured fabric). A very soft paintbrush (sable or camel) can be used.
Always use two hands to carry your pot: one on top and one on the bottom, or one hand on each side. Be careful with handles, they can be fragile. Do not grip or lift pots by the rim. Take care when wearing jewelry, rings can scratch the finish.
Place a piece of felt or cloth between the pot and the shelf to protect the signature.
Avoid exposing pottery to extreme temperature changes.
For those who live in "earthquake country" (also good for mischievous pets):
Weigh pots down with a small zip lock bag containing sand, glass marbles, rice, etc. Do not fill the pot more than one third full as you want them bottom heavy. Remember to remove the weight before moving.
Secure your shelves; make sure they are well attached to the walls. Shelf brackets should be of sufficient length and strength to support the weight of your pottery.
Prevent pots from sliding. Consider attaching a small wooden molding to the front of shelves. Line shelves with non-slip material (a thin sheet of rubber foam, Styrofoam sheeting, etc.)
If you need assistance with special problems, major cleaning (your grandchild spills ice cream on your pot), restoration or repair (the cat breaks a pot), or replacement (irreparable damage), please feel free to call us.
We hope these ideas help you maintain the beauty and value of your pottery for years of enjoyment.
Print this page (.pdf)

100 West San Francisco Street, Santa Fe, New Mexico 87501 (505) 986-1234
www.andreafisherpottery.com



Copyright © 1998-2019 by
Andrea Fisher Fine Pottery
All Rights Reserved