See a larger version
Virginia Gutierrez, Pojoaque, Polychrome seed pot with turtle and geometric design New Arrival this week
Artist: Virginia Gutierrez
Pueblo:
Pojoaque
Dimensions:
2 3/4 in H by 3 1/2 in Dia
Item Number:
ldcof8294
Price:
$ 175
Description:
Polychrome seed pot with turtle and geometric design New Arrival this week
Condition:
Excellent
Signature:
V. Gutierrez Nambe Pojoaque
Pojoaque Pueblo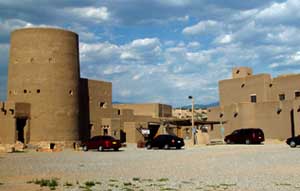 Poeh Culture Center at Pojoaque
The Pojoaque Pueblo area was first settled around 500 AD and the population grew until it peaked in the 1500's. That was about the same time the Spanish first arrived. The first Franciscan mission was built at the pueblo in the early 1600's but the people were already hurting under the impact of Spanish taxes, forced labor and continuous efforts to force conversion to Christianity. That all added up to Pojoaque being in the forefront of the Pueblo Revolt of 1680. Immediately following the revolt, Pojoaque was abandoned and wasn't resettled until about 1706 when many Pojoaque's trickled back from the Cuartelejo area on the plains of west Kansas. By then the major Spanish retributions had died down and it was relatively safe to return, surrender and pledge allegiance anew. Franciscans were also being replaced with Jesuits and the religious fervor receded from the heights reached during the Inquisition.
The population of the reestablished pueblo grew slowly but they saw increasing problems from non-Indian encroachment until President Abraham Lincoln recognized the pueblo as an official tribe. Some documents say he awarded the tribe with an official land grant in 1864 and gave a silver cane to the tribe's governor. Other documents say the tribe was given a quit-claim deed... However it worked out, the tribe did gain some legal standing and was able to reestablish its presence until 1900 when a severe smallpox epidemic caused the pueblo to be abandoned again (the Cacique (the tribe's religious leader) died and Governor Jose Antonio Tapia left the reservation to find work).
In 1934 the Commissioner of Indian Affairs placed newspaper ads around the area calling for all Pojoaque tribal members to come back and reoccupy the pueblo lands or tribal ownership would be dissolved under the Indian Re-Organization Act. Shortly, 14 members of the Villareal, Tapia, Romero and Gutierrez/Montoya families were awarded land grants from the Pueblo land base. By 1936 tribal enrollment reached 263 members and Pojoaque became a Federally recognized Indian Reservation.
During the time of abandonment, many Pojoaque tribe members moved to nearby Santa Clara and San Juan Pueblos. Those Pojoaque who were making pottery at the time learned new things from their neighbors and when they later returned to Pojoaque, traditional pottery making changed with all the cross-pollination of styles and designs. Some potters, though, returned to making only traditional Pojoaque styles and designs. Today there is hardly any pottery being made at Pojoaque as so many tribal members are employed in one or another of the tribe's many commercial enterprises.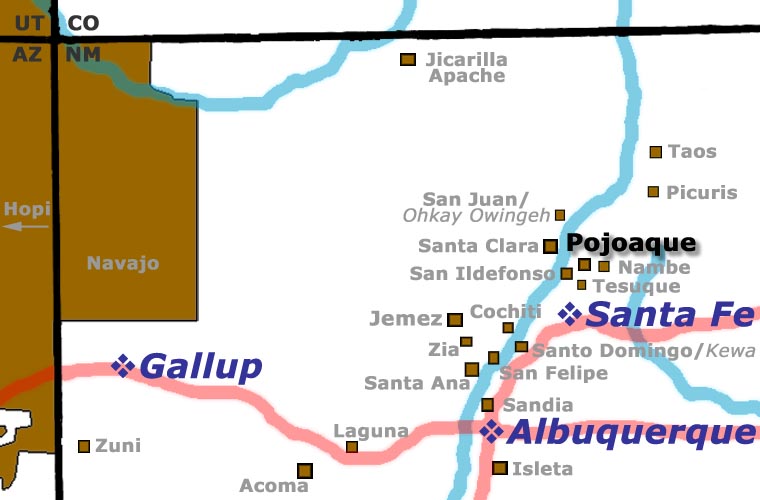 Print this Pueblo History(.pdf)
Seed Pots
Pueblos: Acoma, Hopi, Isleta, Jemez, Laguna, San Felipe, San Ildefonso, San Juan, Santa Clara
It was a matter of survival to the ancient Native American people that seeds be stored properly until the next planting season. Small, hollow pots were made to ensure that the precious seeds would be kept safe from moisture, light and rodents. After seeds were put into the pot, the small hole in the pot was plugged. The following spring the plug was removed and the seeds were shaken from the pot directly onto the planting area.
Today, seed pots are no longer necessary due to readily available seeds from commercial suppliers. However, seed pots continue to be made as beautiful, decorative works of art. The sizes and shapes of seed pots have evolved and vary greatly, depending on the vision of Clay Mother as seen through the artist. The decorations vary, too, from simple white seed pots with raised relief to multi-colored painted, raised relief and sgraffito designs, sometimes with inlaid gemstones and silver lids.
Print this style page (.pdf)
Pottery Care & Consideration
The most obvious tip: Yes, the pots will break if you drop them!
Do not expose pottery to water (Inside or outside). Do not wipe with a damp cloth.
Dust pottery only with a soft, smooth cloth (no terry cloth or textured fabric). A very soft paintbrush (sable or camel) can be used.
Always use two hands to carry your pot: one on top and one on the bottom, or one hand on each side. Be careful with handles, they can be fragile. Do not grip or lift pots by the rim. Take care when wearing jewelry, rings can scratch the finish.
Place a piece of felt or cloth between the pot and the shelf to protect the signature.
Avoid exposing pottery to extreme temperature changes.
For those who live in "earthquake country" (also good for mischievous pets):
Weigh pots down with a small zip lock bag containing sand, glass marbles, rice, etc. Do not fill the pot more than one third full as you want them bottom heavy. Remember to remove the weight before moving.
Secure your shelves; make sure they are well attached to the walls. Shelf brackets should be of sufficient length and strength to support the weight of your pottery.
Prevent pots from sliding. Consider attaching a small wooden molding to the front of shelves. Line shelves with non-slip material (a thin sheet of rubber foam, Styrofoam sheeting, etc.)
If you need assistance with special problems, major cleaning (your grandchild spills ice cream on your pot), restoration or repair (the cat breaks a pot), or replacement (irreparable damage), please feel free to call us.
We hope these ideas help you maintain the beauty and value of your pottery for years of enjoyment.
Print this page (.pdf)

100 West San Francisco Street, Santa Fe, New Mexico 87501 (505) 986-1234
www.andreafisherpottery.com



Copyright © 1998-2019 by
Andrea Fisher Fine Pottery
All Rights Reserved