See a larger version
Virgil Ortiz, Cochiti, Polychrome Sika figure, part of the Revolution Series Last month
Artist: Virgil Ortiz
Pueblo:
Cochiti
Dimensions:
8 in H by 7 in Dia
Item Number:
xxcod8110
Price:
$ 2600
Description:
Polychrome Sika figure, part of the Revolution Series Last month
Condition:
Excellent
Signature:
Virgil Ortiz Cochiti Pueblo 18
Date Created:
2018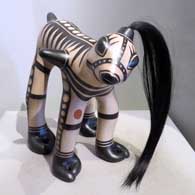 ---
Virgil Ortiz was born into the Oak Clan of Cochiti Pueblo in May 1969. His parents were Seferina and Guadalupe Ortiz. Seferina was a well-known potter and Virgil grew up watching his mother working with clay. He became interested at an early age, making his first storyteller when he was 6. His first entry to Santa Fe Indian Market earned him a 1st Place ribbon (Student, 18 years or younger) in 1983 when he was 14. He earned ribbons almost every year until he stopped showing there in 2001.
Virgil likes to make everything from traditional jars to outlandish circus performer figures to science fiction figures. The forms he draws on range from circus performers to opera divas to religious figures to the Conquistadors. The designs he likes to paint are also a mix of traditional and non-traditional.
Virgil's artistic interests have also branched well beyond the world of pottery into designing textiles, fashions and jewelry, fashion photography and producing videos. In 2017 Virgil was the subject of a one-man show at the Denver Art Museum.
Print this biography (.pdf)
Cochiti Pueblo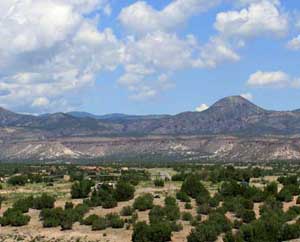 View west across Cochiti Pueblo
Cochiti Pueblo lies fifteen miles south of Santa Fe along the west bank of the Rio Grande. What is now Bandelier National Monument is the pueblo's most recent ancestral home. They may have relocated to the Bandelier area from the Four Corners region around 1300.
Cochiti legend says that Clay Old Woman and Clay Old Man came to visit the Cochitis. While all the people watched, Clay Old Woman shaped a pot. Clay Old Man danced too close and kicked the pot. He rolled the clay from the broken pot into a ball, gave a piece to all the women in the village and told them never to forget to make pottery.
At Bandelier National Monument
In protohistoric times, human effigy pots, animals, duck canteens and bird shaped pitchers with beaks as spouts were common productions of the Cochiti potters. Many of these were condemned as idols and destroyed by the Spaniards. That problem left when the Spanish left in 1820 but the fantastic array of figurines created by Cochiti potters was essentially dormant until the railroad arrived. Then Cochiti potters were among the first to enter the tourist market and they produced many whimsical figures into the early 1900's. Then production followed the market into more conventional shapes.
Legend has it that a Ringling Brothers Circus train broke down near Cochiti Pueblo in the 1920's. The tribe's contact with the ringmaster, trapeze artists, opera singers, sideshow "freaks" and exotic animals paved the way for a variety of new figural subjects. An astute observer will find angels, nativities, cowboys, tourist caricatures, snakes, dinosaurs, turtles, goats, two-headed opera singers, clowns, tattooed strongmen, Moorish nuns and even mermaids in the Cochiti pottery pantheon, most produced only since the early 1960's and based on characters described in Cochiti's oral history.
A few modern potters make traditional styled pots with black and red flowers, animals, clouds, lightning and geometric designs but most Cochiti pottery artists now create figurines. Most notable is the storyteller, a grandfather or grandmother figure with "babies" perched on it. Helen Cordero is credited with creating the first storyteller in 1964 to honor her grandfather. The storyteller style was quickly picked up by other pueblos and each modified the form to match their local situation (ie: clay colors and tribal and religious traditions). In some pueblos, storytellers are also now made as drummers and as a large variety of animals.
Today, Cochiti potters face the challenge of acquiring the clay for the white slip. Construction of Cochiti Dam in the 1960's destroyed their primary source of their trademark white slip and gray clay. Now the white slip comes from one dwindling source at Santo Domingo, Cochiti Pueblo's neighbor to the south.
Most outsiders who visit Cochiti Pueblo these days do so on the way to or from either the recreation area on Cochiti Lake or Kasha-Katuwe Tent Rocks National Monument.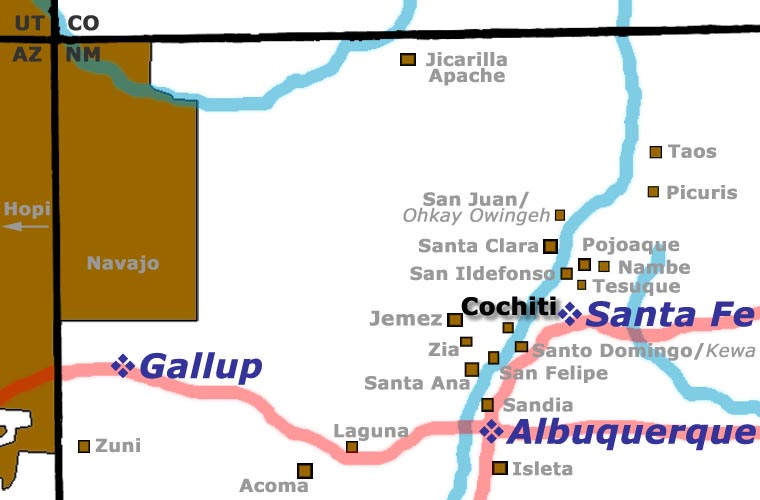 Print this Pueblo History(.pdf)
Pottery Care & Consideration
The most obvious tip: Yes, the pots will break if you drop them!
Do not expose pottery to water (Inside or outside). Do not wipe with a damp cloth.
Dust pottery only with a soft, smooth cloth (no terry cloth or textured fabric). A very soft paintbrush (sable or camel) can be used.
Always use two hands to carry your pot: one on top and one on the bottom, or one hand on each side. Be careful with handles, they can be fragile. Do not grip or lift pots by the rim. Take care when wearing jewelry, rings can scratch the finish.
Place a piece of felt or cloth between the pot and the shelf to protect the signature.
Avoid exposing pottery to extreme temperature changes.
For those who live in "earthquake country" (also good for mischievous pets):
Weigh pots down with a small zip lock bag containing sand, glass marbles, rice, etc. Do not fill the pot more than one third full as you want them bottom heavy. Remember to remove the weight before moving.
Secure your shelves; make sure they are well attached to the walls. Shelf brackets should be of sufficient length and strength to support the weight of your pottery.
Prevent pots from sliding. Consider attaching a small wooden molding to the front of shelves. Line shelves with non-slip material (a thin sheet of rubber foam, Styrofoam sheeting, etc.)
If you need assistance with special problems, major cleaning (your grandchild spills ice cream on your pot), restoration or repair (the cat breaks a pot), or replacement (irreparable damage), please feel free to call us.
We hope these ideas help you maintain the beauty and value of your pottery for years of enjoyment.
Print this page (.pdf)

100 West San Francisco Street, Santa Fe, New Mexico 87501 (505) 986-1234
www.andreafisherpottery.com



Copyright © 1998-2019 by
Andrea Fisher Fine Pottery
All Rights Reserved