See a larger version
Teresa Wildflower, Non-Pueblo, Miniature polychrome dancer figure New Arrival this week
Artist: Teresa Wildflower
Pueblo:
Non-Pueblo
Dimensions:
3/4 in H by 1/2 in Dia
Item Number:
lhmmm6850
Price:
$ 175
Description:
Miniature polychrome dancer figure New Arrival this week
Condition:
Excellent
Signature:
Hallmark
Teresa Wildflower
Chemehuevi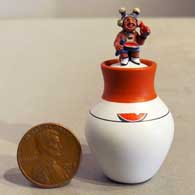 ---
Teresa Wildflower is a member of the Chemehuevi tribe, the southernmost grouping of the Southern Paiutes (the Southern Paiutes traditionally lived in the Colorado River basin and the Mohave Desert in northern Arizona and southeastern California, southern Nevada and southern Utah). She was born in 1935 and became probably the most recognized of Chemehuevi potters.
She most likely grew up on the Colorado River Indian Reservation near Parker, AZ. In those days Federal authorities were actively recruiting Native Americans from high desert tribes to migrate to other reservations and The Colorado River Reservations saw a number of incoming Hopi and Navajo families. Judging from the shapes she made, the kinds of designs she painted and the quality of her work, it's likely she learned to make pottery from one of her Hopi neighbors. There was a bit of a renaissance in Chemehuevi traditional arts beginning in the 1990's with the advent of tribal casinos but Teresa was well established long before that: we found records of a two-week show of her work at Andrews Pueblo Pottery in Albuquerque in the summer of 1982.
Teresa's specialty was miniatures and she was prolific in making them. Because the Chemehuevi pottery tradition was almost wiped out a century before (and the examples available in museum collections look very Hohokam-influenced), it's hard to see anything in her pottery that makes it specifically Chemehuevi. However, her work is light-hearted and reflects a way of looking at nature that is simple, direct and exquisitely to the point. Her pieces are very well made and meticulously painted. Her subject matter is all over the place, from penguins to tropical birds to frogs, lizards, bears and coyotes. Her creations are exacting, built to a scale where 1" is equal to 1'. It's easy enough to confuse her work with Hopi, Zuni or Cochiti pieces as she created with styles and shapes and painted designs from all across the Southwest Native American pottery world.
Teresa isn't producing her pottery any more but she did teach her daughter, Niadi, her methods and processes. Niadi produced similarly beautiful pottery for a few years but she hasn't made any in years now either.
Print this biography (.pdf)
Pottery Care & Consideration
The most obvious tip: Yes, the pots will break if you drop them!
Do not expose pottery to water (Inside or outside). Do not wipe with a damp cloth.
Dust pottery only with a soft, smooth cloth (no terry cloth or textured fabric). A very soft paintbrush (sable or camel) can be used.
Always use two hands to carry your pot: one on top and one on the bottom, or one hand on each side. Be careful with handles, they can be fragile. Do not grip or lift pots by the rim. Take care when wearing jewelry, rings can scratch the finish.
Place a piece of felt or cloth between the pot and the shelf to protect the signature.
Avoid exposing pottery to extreme temperature changes.
For those who live in "earthquake country" (also good for mischievous pets):
Weigh pots down with a small zip lock bag containing sand, glass marbles, rice, etc. Do not fill the pot more than one third full as you want them bottom heavy. Remember to remove the weight before moving.
Secure your shelves; make sure they are well attached to the walls. Shelf brackets should be of sufficient length and strength to support the weight of your pottery.
Prevent pots from sliding. Consider attaching a small wooden molding to the front of shelves. Line shelves with non-slip material (a thin sheet of rubber foam, Styrofoam sheeting, etc.)
If you need assistance with special problems, major cleaning (your grandchild spills ice cream on your pot), restoration or repair (the cat breaks a pot), or replacement (irreparable damage), please feel free to call us.
We hope these ideas help you maintain the beauty and value of your pottery for years of enjoyment.
Print this page (.pdf)

100 West San Francisco Street, Santa Fe, New Mexico 87501 (505) 986-1234
www.andreafisherpottery.com



Copyright © 1998-2018 by
Andrea Fisher Fine Pottery
All Rights Reserved