See a larger version
Mona Teller, Isleta, Coyote family howling 3 pieces New Arrival this week
Artist: Mona Teller
Pueblo:
Isleta
Dimensions:
5 3/4 in H by 4 in Dia Measurement of largest piece
Item Number:
xxlek7392
Price:
$ 425
Description:
Coyote family howling 3 pieces New Arrival this week
Condition:
Excellent
Signature:
Mona Teller Isleta N.M.
Isleta Pueblo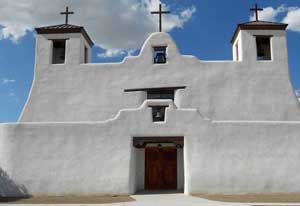 San Agustin de la Isletas Mission
Isleta Pueblo was founded in the 1300's. Archaeologists have put forth various ideas as to where the people came from with some scholars saying they migrated north from Mogollon/Mimbres settlements to the south while others say they migrated southwestward from either Chaco Canyon in the 1100's and 1200's or from the Four Corners area in the 1200's and 1300's. Their Tiwa language is shared with nearby Sandia Pueblo and a very similar tongue is spoken to the north at Taos and Picuris Pueblos. The two dialects are sometimes referred to as Southern and Northern Tiwa.
When the Spanish arrived in the area they named the pueblo "Isleta" (meaning: island). The residents were relatively accommodating to the Spanish priests when compared to the reception the same priests got in other areas of Nuevo Mexico (making Isleta something of an "island of safety" for the Spanish in an ocean of hostility). When the Pueblo Revolt of 1680 happened, Isleta either couldn't or wouldn't participate in the rebellion. When the Spanish governor left Santa Fe he went to Isleta and gathered his troops. None wanted to go back and fight so when they left and headed south, many Isletans went south to the El Paso area with them. Others fled to the Hopi settlements in Arizona and returned after the fighting was clearly over, many with Hopi spouses. When the Spanish returned in 1682 they found the Isleta mission church burned and the main structure was being used as a livestock pen. When the Spanish returned in force in 1692 they found Isleta empty and burned. The governor ordered the pueblo be rebuilt and resettled so residents were brought in from Taos and Picuris to the north and from Ysleta del Sur to the south, near El Paso. By 1720 a new, grander mission had been rebuilt on the foundations of the first.
Over the next century dissident members of the Laguna and Acoma Pueblo communities migrated to Isleta. While they were welcomed into the main Isleta pueblo at first, friction developed over the years until in the 1800's, the small communities of Oraibi and Chicale were established and most of the newcomers moved to one or the other.
The advent of the railroad in New Mexico was almost the end of the Isleta community as so many of the men went to work for the railroad. While the remaining residents managed to hold on to some of their social and religious practices, other elements of their culture almost disappeared, pottery making being one of those traditions that barely survived.
Today, making pottery the traditional way is practiced by only a few potters and their close family members.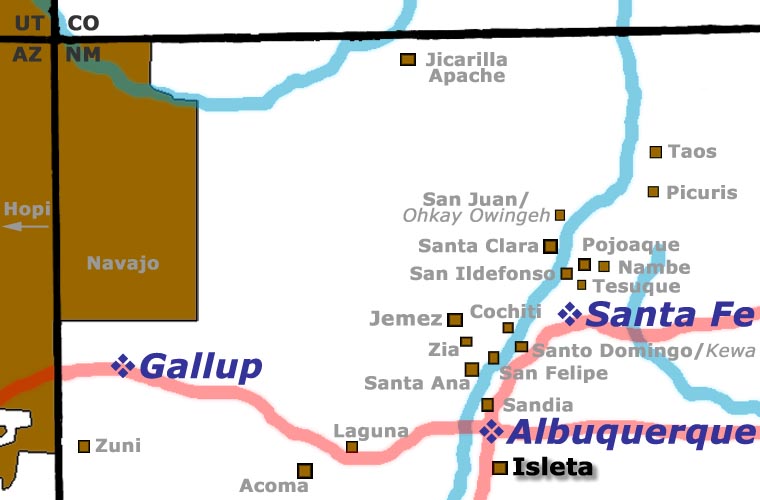 Print this Pueblo History(.pdf)
Teller Family Tree
Disclaimer: This "family tree" is a best effort on our part to determine who the potters are in this family and arrange them in a generational order. The general information available is questionable so we have tried to show each of these diagrams to living members of each family to get their input and approval, too. This diagram is subject to change should we get better info.
---
Stella (b. 1929) and Louis Teller


Their descendants who became potters:

Chris Teller Lucero (b. 1956)
Marie (Robin) Teller Velardez (b. 1954) and Ray Velardez
Their descendants who became potters:


Lesley Teller Velardez (b. 1973)

Mona Blythe Teller (b. 1960)
Her daughter who became a potter:

Nicol Teller Blythe (1978)

Lynette Teller (b. 1963)
Pottery Care & Consideration
The most obvious tip: Yes, the pots will break if you drop them!
Do not expose pottery to water (Inside or outside). Do not wipe with a damp cloth.
Dust pottery only with a soft, smooth cloth (no terry cloth or textured fabric). A very soft paintbrush (sable or camel) can be used.
Always use two hands to carry your pot: one on top and one on the bottom, or one hand on each side. Be careful with handles, they can be fragile. Do not grip or lift pots by the rim. Take care when wearing jewelry, rings can scratch the finish.
Place a piece of felt or cloth between the pot and the shelf to protect the signature.
Avoid exposing pottery to extreme temperature changes.
For those who live in "earthquake country" (also good for mischievous pets):
Weigh pots down with a small zip lock bag containing sand, glass marbles, rice, etc. Do not fill the pot more than one third full as you want them bottom heavy. Remember to remove the weight before moving.
Secure your shelves; make sure they are well attached to the walls. Shelf brackets should be of sufficient length and strength to support the weight of your pottery.
Prevent pots from sliding. Consider attaching a small wooden molding to the front of shelves. Line shelves with non-slip material (a thin sheet of rubber foam, Styrofoam sheeting, etc.)
If you need assistance with special problems, major cleaning (your grandchild spills ice cream on your pot), restoration or repair (the cat breaks a pot), or replacement (irreparable damage), please feel free to call us.
We hope these ideas help you maintain the beauty and value of your pottery for years of enjoyment.
Print this page (.pdf)

100 West San Francisco Street, Santa Fe, New Mexico 87501 (505) 986-1234
www.andreafisherpottery.com



Copyright © 1998-2018 by
Andrea Fisher Fine Pottery
All Rights Reserved